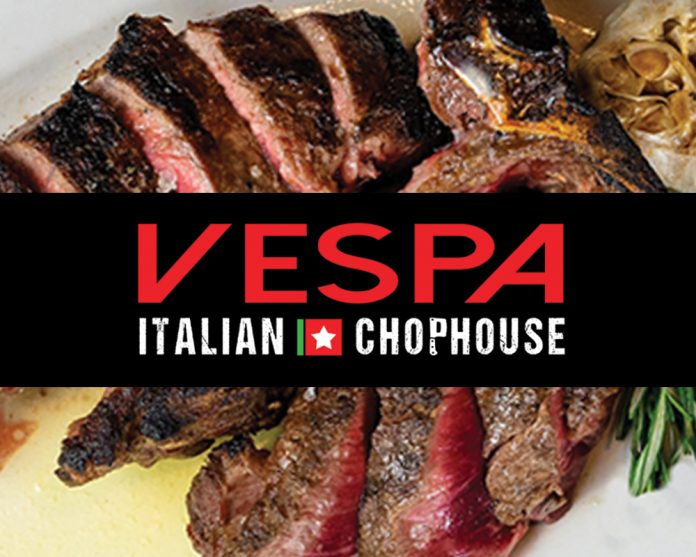 ---
---
---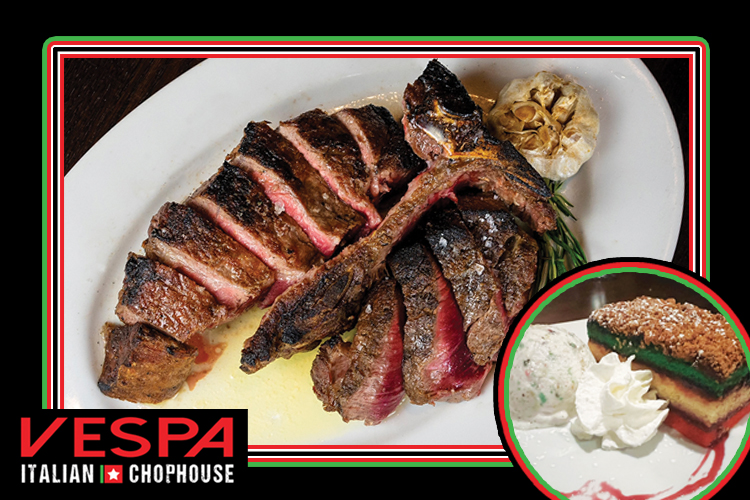 ---
---
The name in itself is enough for the passionate foodie to find out why Vespa Chophouse has become a popular mainstay for its patrons. Its wooded interior, inviting bar with oversized richly appointed red booths all add to its warmth and class. An added bonus is a private party room that can accommodate up to 100 guests. 
Once you've had the chance to peruse their menu, you'll find no shortage of creative dishes, combined with traditional southern Italian fare, crafted to appeal to a broad spectrum of customers. Notable for being an Italian Steakhouse, all adds to the allure of Vespa Chophouse.
This evening, our starters included the Arancini Siciliani; app size rice balls with a crispy exterior, yet creamy within had a melt in your mouth texture. No doubt, quite popular. Mussels Rosso; a spicy Fra Diavlo with thin garlic crostini has the kick without overwhelming the palate. It was so good that once finishing mussels, I aced the sauce from the rice ballsand began to dunk the arancini in the devil'­­s elixir. One word…heaven. An oxymoron, but true. Following suit was the Rocket Salad; Crisp, fresh and a perfect palate cleanser for what was to come.
Sharing mains meant ordering a meat, pasta and seafood dish. Socially, it just makes the entire experience so much more enjoyable. Besides, who wants to miss out on tasting everything!
For me, the star attraction was their 36 oz, 27 day aged Porterhouse; presented on a hot plate, served sliced. The charred exterior was at a perfect medium rare temp. Not over salted, (like most steakhouses) allowing the it's intense flavor profile to come through. The Pasta Con Rapini; a traditional dish that Nonna used to bring from the kitchen before the meats. A Cavatappi (cork screw) pasta combined with crumbled sausage, broccoli rabe, Sicilian olives, in a garlic and oil complimented the steak perfectly. Don't forget the pecorino! Our final entree was cleverly presented; Gamberi Oreganta; Four jumbo shrimp placed on a bed of sautéed spinach, served in a bread crumb sauce was skillfully presented like soldiers in a row. Plump and perfectly cooked, yet light enough to compliment the heavier beef and pasta offerings.
The Rainbow Cookie Cake with a scoop of rainbow cookie ice creamhad a light texture and tasted as if it came fresh from the bakery. With a cappuccino, sealed the deal.
For the entire experience, our server Cory was right on par. He must have checked in on us 6-7 times to be sure that every dish delivered met expectations. Good food matters, but without great service, it's not a pleasurable experience.
Michael Lomanto, who also owns Harley's American Grille of Farmingdale has dedicated his livelihood in delivering the best in restaurant hospitality. Thumbs up Vespa Chophouse!
---
---
---