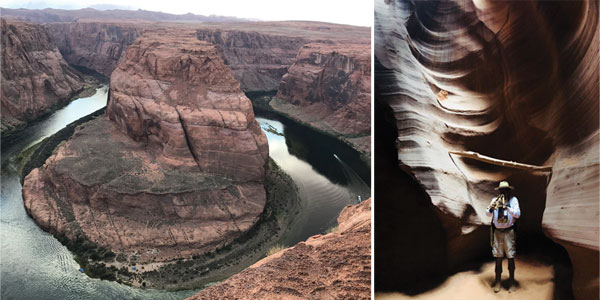 Claudia Fenner is a writer, photographer and travel enthusiast from Dix Hills. She loves to plan her family's vacations as well as help her relatives and friends with theirs. Have any travel questions you would like answered? Email her at travelingclaudia@gmail.
com. Happy Travels!
Be still and the earth will speak to you.. Navajo Proverb.
Arizona is one of our favorite places to vacation. This year we included a new, "add on" destination to our usual stay in Scottsdale and it was absolutely extraordinary.
Antelope Canyon is located near the Utah border approximately 300 miles north of the greater Phoenix area. It was an easy 5-hour drive to Page, Arizona, where we spent the night before joining our tour the following morning.
Antelope Canyon is a slot canyon on Navajo land. It is a popular location for photographers and sightseers, and a source of tourism business for the Navajo Nation. All visits are booked through one of several licensed tour operators. It is not possible to visit the Canyon independently.
We stayed at the new Hampton Inn in Page, Arizona. The rooms were lovely and breakfast was included. It was a great choice.
I booked a tour in advance through, "Chief Tsosie Canyon Tours." Their website is www.antelopeslotcanyon.com.
We chose the 6am tour to avoid the crowds and the intense heat of the July day. We were up super early anyway because of the time change from New York. The $58, 1.5 hour tour included an $8 per person Navaho permit fee. We met at their office and were driven to the canyon on open air covered trucks. Our native guide, Leonard, was informative and super helpful, especially about showing everyone which setting on their camera or phone was the best for capturing the gorgeous colors of the canyon.
Leave your pocketbook at the hotel as there are no bags allowed on the tour. If you don't choose to reserve in advance, you can book a tour from the booths in the parking lot near the entrance to the canyon.
A few miles outside of Page, another must see is the wonderful Horseshoe Bend Overlook. It's an easy 45-minute hike each way to view the Colorado river by a cliff. Try not to go midday in the summer.. it's hot!
That evening we enjoyed an awesome dinner and show at the, "Into The Grand" restaurant in Page. For $28 per person we had a tasty dinner and a beautiful Native American dance presentation; it's not to be missed. For information and reservations click on www.intothegrand.com.
Bring your camera, bring your hat and visit Antelope Canyon.. it is a truly magical place.