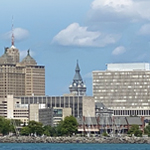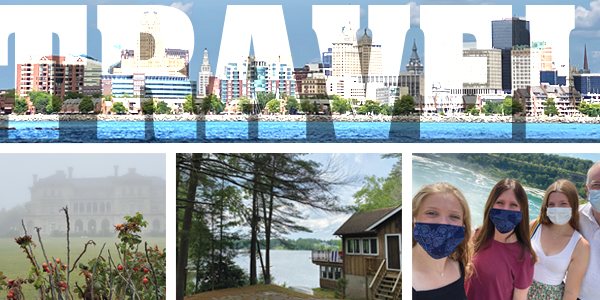 Claudia Fenner is a writer, photographer and travel enthusiast from Dix Hills. Have any travel questions you would like answered? Email her at
travelingclaudia@gmail.com.
Happy Travels!
"Adventure is calling, but I can't come to the phone right now" and "The only nation I'm visiting this year is imagination," were our travel battle cries for the past 9 months.
None of us know what the year ahead holds as far as traveling, but if you are anxious to get away, plan a trip you will feel comfortable taking.
Our first family foray back into travel was in early July, when we took a week-long driving trip into upstate New York.  I chose to stay in New York State so I would not have to worry about any quarantine regulations upon entering another state or returning back to New York.  It was a lovely and memorable trip…so wonderful to be away again, but also laced with a little trepidation as we had been accustomed to being home for so long. We enjoyed all that Buffalo had to offer, which is a lot considering many places up there were still closed at that time.  After our "city portion" of the vacation, we hit the "country portion" and stopped for a night in scenic, Lake Cazanovia,   (just outside of Syracuse).  It was a perfect first getaway, post COVID.  We were in our own car, which made us feel in control. Hotel breakfasts had changed, and gone were the days of coffee in the lobby along with self-service buffets.  Luckily, more things were the same rather than different which made it feel good to be on the road again.
I packed a "to-go bag" of paper towels, antibacterial spray, liquid soap, wipes, masks, gloves and hand sanitizer.  It came in handy to have that all in one place.
Then, in September we spent a few days in Newport RI and that was lovely too.  A short 4 hour drive, delicious seafood and grand mansions… what's not to like?  Our daughter and her fiancé continued onto Maine after that, where it seemed like most of the East Coast had decided to vacation this summer.  Another daughter rented a house in the Catskills and spent a week relaxing. That too, was a popular choice for people, since houses can easily be rented through the Airbnb and VRBO websites.
Now, it seems that people might be ready to travel again by plane. I think I'm ready… with a few planning tips in mind before we depart.
First and foremost, whether you fly or drive, check the current travel/testing/quarantine restrictions of where you are visiting and upon your return back to New York State.  The rules change frequently.  View the current status for NYS at https://coronavirus.health.ny.gov/covid-19-travel-advisory
Most airlines and hotel chains have incredibly lenient cancellation policies.  Do check your specific carrier and hotel about this, but if you change your mind about going, you probably won't be liable for steep cancellation fees.
Airlines are working very hard to make travelers feel comfortable again, with attention to strict mask enforcement, blocking of middle seats, capped flight capacity, improved boarding procedures and passenger health screening.  Research online the airline you are thinking of booking, to see exactly what safety procedures and cancellation rules they have in place.
If you do travel this winter…take a deep breath, enjoy the adventure and be sure to wash your hands often.
Happy (and safe) Travels!