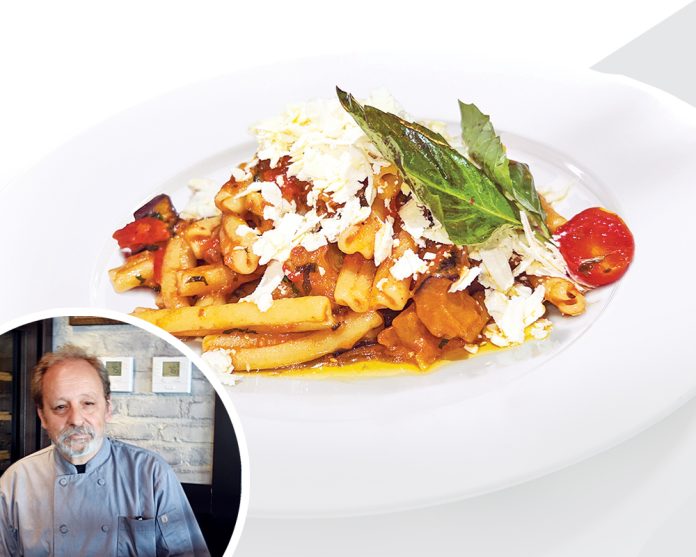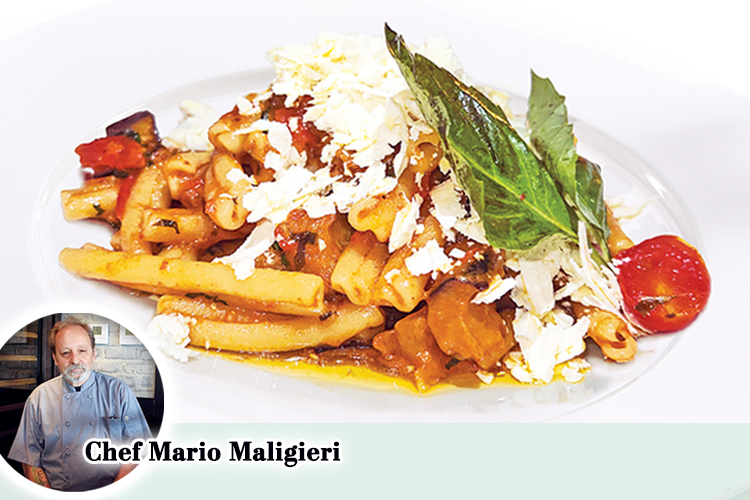 Chef Mario Maligieri of Gusto Osteria
Chef Mario Maligieri got his start in the kitchen at an early age. His father was a chef in Naples, Italy, and Mario, along with his brothers, followed in their father's footsteps. Since migrating to the states in 1980, Mario has worked in a number of renowned kitchens, leading him to Hauppauge's own Gusto Osteria. 
Chef Mario crafted Gusto Osteria's menu around providing guests with authentic Italian cuisine. He is a firm believer in using only fresh ingredients, telling ET that you won't even find a can-opener in his kitchen. When asked what his favorite part about being in the kitchen is, Mario said it's the passion – it's hard work, but he loves doing it.
Book your reservation at Gusto Osteria Wine Bar in Hauppauge to enjoy a glass of wine with Chef Mario's delicious creations!
---
RIGATONI NORMA ~ Serves 4-6
1 ½ pounds eggplant
Olive oil as needed (at least ½ cup)
Salt and pepper
1 tablespoon chopped garlic
3-4 dried chiles
1 ½ pounds tomatoes, chopped
1 tablespoon fresh oregano
1 pound long pasta
½ cup chopped basil
½ cup grated ricotta salata
---
Cut eggplant into slices about ½ inch thick. Cook in abundant olive oil, without crowding, sprinkling with salt and adding more oil as needed. You will undoubtedly have to cook in batches; take your time and cook until the eggplant is nicely browned and soft. Remove to a plate.
When the eggplant is just about done, the pan will ideally have a couple of tablespoons of oil left. Drain some off or add as needed. Turn the heat to medium, add the garlic and chiles, and cook until the garlic colors a little bit. Add the tomatoes and oregano, along with some salt and pepper.
Cook the pasta until tender, but not mushy. While the pasta is cooking, cut the eggplant into strips and reheat for a minute in the tomato sauce. Drain the pasta and toss it with the tomato sauce and eggplant. Taste and adjust the seasoning, then top with parsley or basil and dry ricotta salata.
---