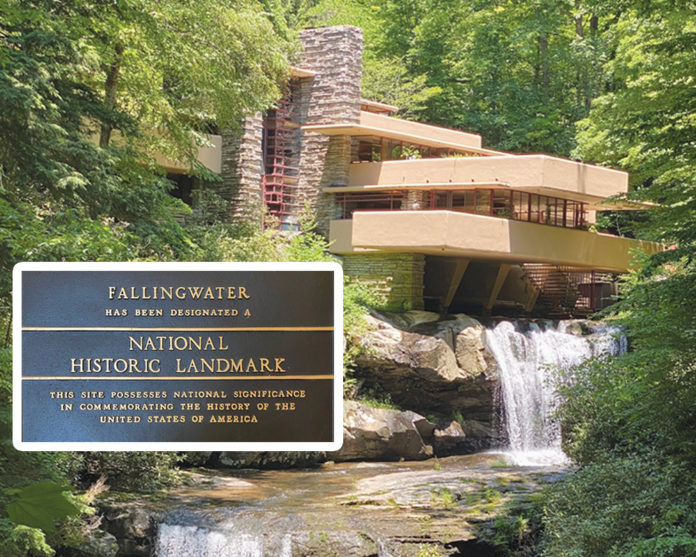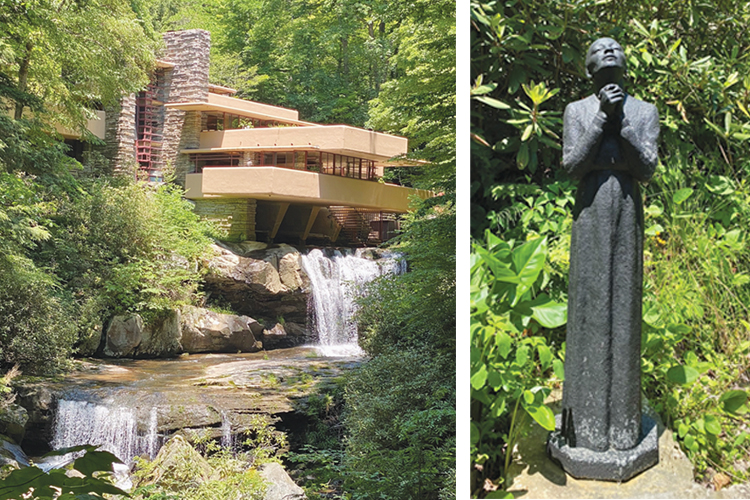 "Form follows function – that has been misunderstood. Form and function should be one, joined in a spiritual union." Frank Lloyd Wright
---
Located just 90 miles southwest of Pittsburgh is one of America's preeminent architects most famous works.  "Fallingwater" was designed by Frank Lloyd Wright in 1935 for the Kaufman family, who were the owners of Pittsburgh's largest department store.  Interestingly enough, the word Kaufman in German means shopkeeper.  From 1937 to 1963 the family used it for a summer retreat, as they loved the outdoors and it provided an escape from the sooty skies of industrial Pittsburgh.  In 1963, the son of Edward and Liliane Kaufman, Edward Kaufman Jr., donated the property to the Western Pennsylvania Conservancy.  Throughout the years, the house has undergone many restorations as it has been damaged by the ravages of time, humidity and harsh winters.
     The house is actually built over the Bear Run waterfall, hence the name Fallingwater. A true engineering marvel, the design was revamped many times so it would be structurally sound.  Limiting the palette to two colors (beige and red), the house is fully incorporated into its natural surroundings. There is a guest house as well as a carport and small swimming pool…all totaling about 7,000 square feet.
     The original estimated cost in 1935 was $35,000, but ended up way over budget at $155,000. In today's money, adjusted for inflation, it would be equivalent to around $3 million dollars.  As in most of the homes that he designed, Frank Lloyd Wright oversaw every detail, including the fixtures, furnishings and hardware.  Fallingwater was designated a National Historic Landmark in 1966 and has become a World Heritage site.
     There is a convenient parking lot and a welcoming visitor center that greets you upon arrival.  You must buy your tickets in advance on their website fallingwater.org.
You have the choice of a guided indoor tour ($30) or a self-guided outdoor tour ($18).  If you would like the indoor tour, book early as it seems like that one sells out first.  There is a café, ample restrooms and a museum store in the visitor's center.
Fallingwater is truly an American architectural masterpiece.  Combine it with a getaway to Pittsburgh and it is a lovely way to spend a weekend in western Pennsylvania.