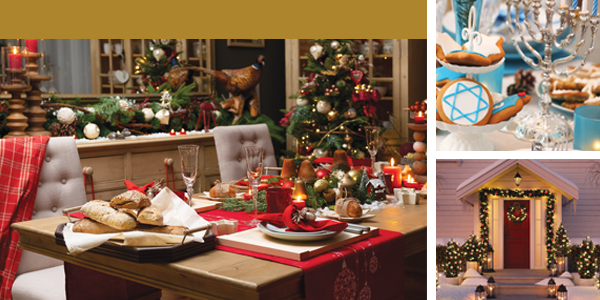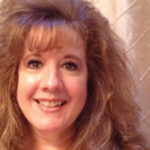 Maria DiGiorgio is a devoted wife and mother, an educator and designer. Visit her Etsy shop: LaPetiteFleurbyMaria, for beautiful, one-of-a-kind, hand embellished floral picture frames.
There is certainly nothing ordinary about the past nine months! It has marked a time in our world, of great fear and uncertainty.  As human beings, we are naturally hardwired to be resilient, and as Americans, we always look for the silver lining in life.  This upcoming holiday season will be unlike any other, as it will mark the first (and hopefully last) time we will be celebrating both Christmas and Chanukah, in a world which is still reeling from this pandemic.  Traditions and experiences will have to be modified, but they can still hold a special place in our hearts and in our homes!
More than ever, the importance of decorating and preparing our homes for celebration, is paramount.  It affords us the opportunity to take the focus off the negative and place it squarely on the positive.  Holidays enable us to create new, special memories and to celebrate cherished ones of old.  We become stronger in our bonds with family, faith and friends.  We have an opportunity to express ourselves through home décor, meal preparation and in the way we adorn our tables.
Although our guest list may look quite different from last year, we can and should put as much effort into making the people we share this time with feel as significant as ever.  Using your good china or special occasion dishes, is a fun and easy way to elevate the mood.  Preparing a special main dish or dessert that you and guests can look forward to each year – with great anticipation, is another wonderful opportunity to spotlight the holidays.  Incorporating soft candlelight and fresh flowers, fruit or greenery as a centerpiece (or as individual place setting accents), will make a festive and welcoming addition to your holiday table.
Adding some holiday décor to your front door, front window or outside porch and garden area, is another way to infuse holiday cheer.  It reminds us and others, that we are taking this time to celebrate the importance of our beliefs and traditions.  Involve your family members in this process and even change things up a bit from your previous year's look.  Perhaps, add some fresh garland around your entryway or mailbox.  Purchase or make a new wreath for your front door.  Add festive lighting to your bushes, and create a small display on your front lawn or in a picture window, for all to see and enjoy.  Happiness is catching, and sharing it with others can add to the joy we recieve in creating such displays.
Keeping our focus on the true meaning of our holiday and the essence of what it means, everyday in our lives, is the best way we can celebrate all the blessings we have.  The most important accessory you can sport is a genuine smile!  Letting others see and feel the warm glow of love and gratitude in our hearts, will bring the brightest light and most treasured gift of all, this holiday season!