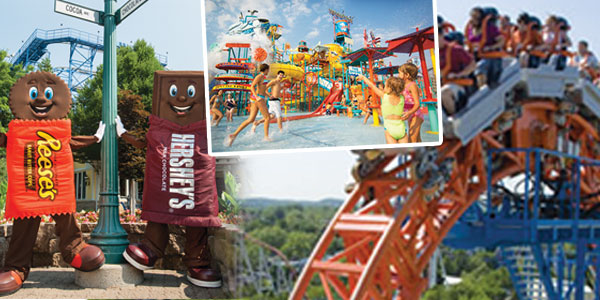 The beach or an amusement park? Have you struggled between these two destinations while you are planning your vacation?
If you have ever visited Hershey, PA you know that both are available in the same location at Hersheypark, the 120- acre theme park that boasts 70 rides and attractions and includes The Boardwalk at Hersheypark in the one-price admission.
With thirteen exhilarating roller coasters, 14 refreshing water rides, daily live entertainment, fun family games, select retail shops and scrumptious food and beverages, Hersheypark has it all.
Since we are in those "dog days" of August, Hersheypark is the perfect family destination.
The Boardwalk was built in 2007 to celebrate the Park's Centennial and, at that time, was the single largest investment in the Park's history. Since many Park guests visit the beaches of the Northeast, The Boardwalk pays tribute to Ocean City, MD; Atlantic City, NJ; Coney Island, NY and Rehoboth Beach, DE.
In 2009 an addition brought more water and new attractions for guests.
Today there are 14 unique water attractions that offer something for all ages. Sandcastle Cove and Shoreline Sprayground are designed for the younger guests and provide opportunities to discover the fun of water play.
• East Coast Water Works, the centerpiece of The Boardwalk, offers a wide variety of unique elements, including more than 225 feet of bridges, seven slides, two crawl tunnels, and nearly 200 interactive water toys. This zero-depth entry attraction is perfect for the whole family to experience together.
• If you are looking for action and thrills, choose from one of six action-packed water slides that take you from the top of the ride platform into a 3 ½ foot deep splash pool in mere seconds!
• When it's time to relax, families can enjoy Intercoastal Waterway, a 2 ½ foot deep lazy river with 24,000 square feet of water area perfect for laying back on the larger inner tubes and just floating away the day.
• It really does take a full day to enjoy all the water play and then another day to tackle the "dry" Park.
• All the action seems to bring out the appetite and Hersheypark offers a wide array of food and beverage choices from ice cream to pizza to burgers and fries. New this year are Moe's Southwest Grill, the first location inside an amusement park and Makin' Whoopie Pies, where you can create-your-own whoopie pie from a selection of cake and filling flavors and have it made right in front of you. Food allergies seem to be on the rise so also new this year is The Outpost offering guests with food allergies and their families a great place to eat together.
• Additional information on the Park and the town of Hershey, which is a year-round destination, can be found on HersheyPA.com.