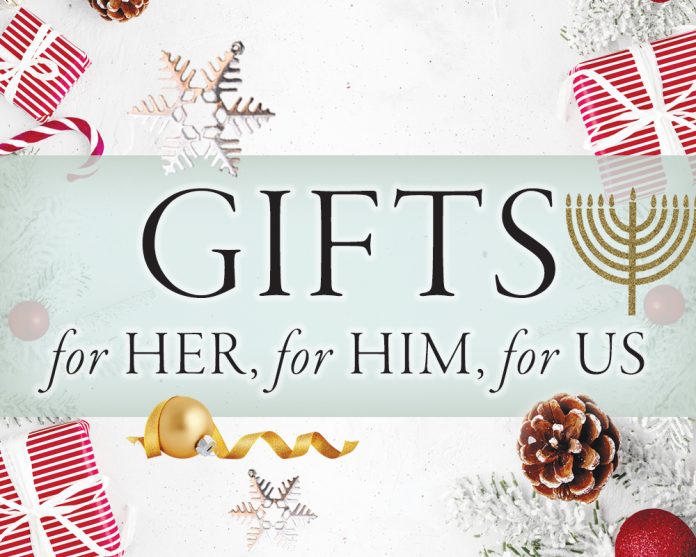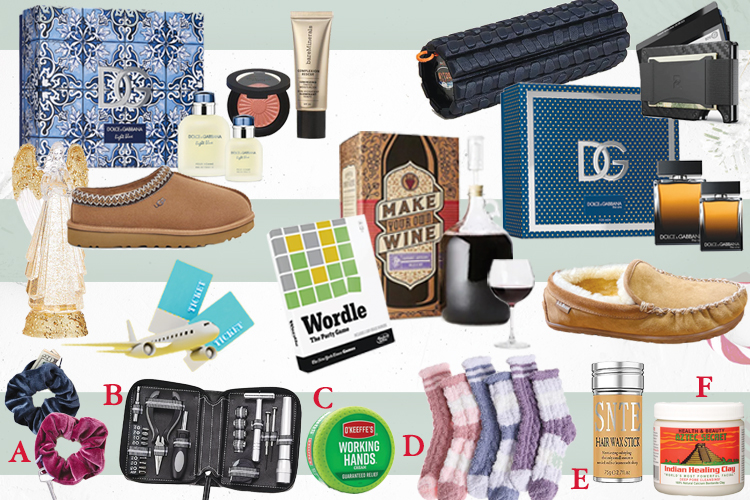 ---
---
---
       FOR HER       
Custom Birth Flower Month Candles 10oz & 18oz ($24.99-$29.99).  Who doesn't love receiving candles as a gift? You can never have too many. This year make it more personal with the custom birth flower, scent and color. PersonalizationMall.com
---
Initial Pendant Necklace ($39.50).  Available in 18k gold or silver. A classy and elegant look, this necklace will be perfect for everyday wear. Add a sentimental touch with the initial of a loved one or the recipients own initial. etsy.com/shop/caitlynminimalist
---
Bare Minerals – FACE THE DAY, BEAUTIFULLY RADIANT COMPLEXION DUO ($42).  The Complexion Rescue Radiant Skin Tint and the Gen Nude Blonzer will leave your skin glowing through these dark winter days. seengroup.com
---
Ugg Tasman Slippers ($100).  Hop on the trend and get a pair of these Ugg slippers. Good for both indoors and outdoors, wearing them will provide the perfect amount of support and comfort. ugg.com
---
GreenPan Reserve Ceramic Nonstick Fry Pans, Set of 2 ($119.95).  For the one who loves to cook. These luxurious, non-stick, ceramic pans will be a great gift. Available at Kohls, Williams Sonoma, Bed, Bath & Beyond
---
13'' Lighted Gold Swirling Angel ($62).  This angel will for sure light up a room with the swirling glitter. These are a top seller at Red Barn Boutique, you definitely want to get your hands on them asap. Available in store or online at redbarnboutiqueny.com. 
---
­Bondi Sands Dark Foam Bundle ($48).  In the middle of winter you may be missing your tan from the warmer summer days. Get your tan back on with Bondi Sands Foaming Tanner, it will leave you glowing with a fresh coconut scent all winter long. bondisands.com 
---
D & G Light Blue Eau de Toilette Set ($114).  A refreshing yet lively scent worth all the hype that it gets. This set includes the Light Blue Eau de Toilette (3.3oz), Light Blue Refreshing Body Cream (1.6oz) and the Light Blue Eau de Toilette Rollerball (0.33oz). seengroup.com
---
---
       FOR HIM       
D & D The One For Men Eau de Parfum Set ($152).  Whether the man in your life needs a new fragrance or not, this one is worth splurging on. A sophisticated yet vibrant scent based with tobacco, amber and cedarwood. seengroup.com
---
Hickory Grilling Crate ($79.99).  For the grill master in your life. The set includes the cast iron smoker, wood chips, marinades, rubs and BBQ sauce, they will for sure grill up the most delicous smoked steak. mancrates.com
---
Men's Wicked Good Slippers, Venetian ($89.00).  One of the most popular slippers, selling a pair every 7 seconds in December (L.L. Bean). Perfect for indoor and outdoor wear, keeping your feet warm and supported. LLbean.com
---
Leather Dopp Kit Crate ($99.99).  Men need personal hygiene products too! This personalized leather dopp bag is filled with all he'll need: shampoo, a body bar, body lotion and a sheet mask. Mancrates.com
---
Men's Katahdin Iron Works® Half-Zip Sweatshirt, Hooded, Flannel-Lined ($99).  Keep the cold away with this heavyweight flannel-lined sweatshirt. Perfect for someone who works outside or just needs a thicker everyday sweatshirt this winter.  LLbean.com
---
Carbon Fiber 3K Ridge Wallet ($140.00).  The ridge wallet is perfect for the minimalist while allowing you to carry all that you need. Ridge.com
---
­Collapsible Foam Roller ($70).  For the athletic loved one in your life, this will keep their muscles in tact and ready for their next hike, sports game, or lift. The best part? It is portable so you can take it on the go with you. www.uncommongoods.com
---
This Luigi Bormioli® Lavish Last Name Engraved Old Fashioned Whiskey Glass ($19.99).  Gives off a classy look. Get your loved one their own personal whiskey glass. Pair it with a bottle of whiskey and there you have it, the perfect gift. PersonalizationMall.com
---
---
       FOR US       
A Personalized Bamboo Cookbook & Tablet Stand ($36.99) would be perfect to display a traditional family recipe while also being used for a tablet stand. PersonalizationMall.com 
---
Cabernet Sauvignon Wine Making Kit ($65.00).  What is better than receiving wine as a gift? Being able to make it yourself! This unique gift will be a hit for sure. www.uncommongoods.com
---
Margarita Pitcher Set ($52).  Calling all margarita lovers! Not only does it look great on display but it will be a big hit when you are hosting holidays and celebrations. redbarnboutiqueny.com.
---
Wordle The Party Game ($19.99).  If you haven't heard of Wordle by now, where have you been? It is a word guessing game that was initially just online. Now you can play in person with family and friends. This will be a fun, competitive game to bring to the holidays or a night in with family and friends.  Available at Walmart, Target, and Amazon
---
Personalized Classic Monogram Woven Blanket ($199.99).  Available in many different colors. A gift that will be cherished for years, this personalized blanket adds a warm and comforting touch to any room! PersonalizationMall.com
---
Skip the gifts and plan a vacation instead! Whether big or small, it is always nice to get away for a little bit and see the world.
---
---
       STOCKING STUFFERS       
 A.   Hidden Pocket Scrunchies – Set of two ($20). Perfect for a night out on the town when you don't want to carry a bag around all night. Keep everything in a scrunchie and you're good to go. www.uncommongoods.com
 B.   Fix-It Kit ($30). A staple gift that everyone should always have handy. www.uncommongoods.com
 C.   O'Keeffe's Working Hands Hand Cream ($8.99). For those hard at work outdoors, this will make all the difference for their dry, cracking hands. www.amazon.com
 D.   Womens Fuzzy Socks ($13.99). Who doesn't love a pair of fuzzy socks? The more the better. www.amazon.com
 E.   Hair Wax Stick ($12.99). If you haven't heard, waxing back your hair is the big trend right now and this is the go-to product. A classy and elegant look, in place all day thanks to this hair wax stick. www.amazon.com 
 F.   Aztec Secret Bentonite Clay Face Mask Set ($19.99). A personal favorite, this face mask will leave your skin feeling deeply cleaned. It absorbs all excess oil, shrinks pores and reduces redness. www.amazon.com
---
---
---