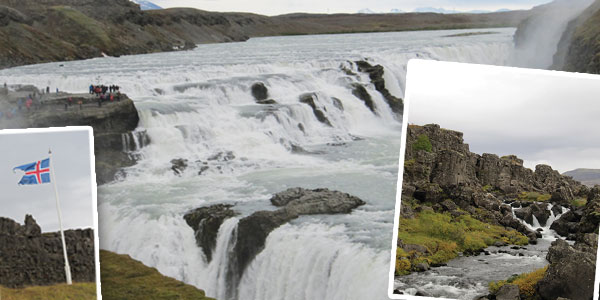 Claudia Fenner is a writer, photographer and travel enthusiast who is a stay home mom of three in Dix Hills. She loves to plan her family's vacations and helping her friends and relatives with their vacation ideas.
Iceland seems to be the new darling of frequent travelers. We quickly planned a short three-day trip there to see what all the fuss was about and it truly lived up to the hype. Reykjavik (airport code KEF) is only 2500 miles from New York. It's about the same distance as flying to Las Vegas. Icelandic Air runs daily flights year round while Delta offers seasonal nonstop service.
Flying time is less than five hours and the time difference is a mere four hours. Inexpensive and well-organized bus service from KEF to Reykjavik can be booked in advance at www.re.is/flybus or you can just buy your ticket when you arrive outside of baggage claim.
We chose the brand new Canopy by Hilton hotel for our whirlwind stay. It was modern, hip and beautifully appointed. The breakfast buffet, which is included with everyone's room rate, was outstanding. The super friendly staff went out of their way to be enthusiastic and helpful. For rates and reservations go to www.canopy3.hilton.com.
We booked 2 fantastic full day tours with Sterna Travel, a local tour company. Most of the main sights can be seen on their Golden Circle and South Coast tours. We enjoyed two solid days of breathtaking waterfalls, geysers, black sand beaches, glaciers, caves, and lava fields. We saw where the North American plate is pulling away from the Eurasian plate. We marveled at rainbows around every corner. We sat back, relaxed and let Sterna do the driving. For information on their array of tours click on www.sternatravel.com.
No trip to Iceland would be complete without a soothing soak in the famous Blue Lagoon. The lagoon is a large, man made, 100 degree, outdoor pool that is rich in silica, which creates its distinctive light blue color. The heated water is run off from a nearby geothermal power plant. You must book your tickets in advance, as it's incredibly popular and busy. For reservations and tickets visit www.bluelagoon.com. If you want to combine your tickets with bus transportation, Grayline operates hourly tours that include your admission and round trip bus service.
Dining in Reykjavik is rather pricey but there are some reasonable choices to be had. We enjoyed an outstanding fish dinner at Sægreifinn, -The Sea Baron. You choose your fish kabob at the counter, take a seat and they serve it to you perfectly grilled a few minutes later.
If you visit between September and April the Northern Lights are usually visible on clear nights. We actually stood on the roof of our hotel and saw them.
Two things not to miss, hotdogs, which are slathered with 2 sauces and crunchy fried onions. For dessert the Icelandic chocolate bars filled with soft black licorice. Both amazing!
Our Iceland adventure was short yet very, very sweet. Do put it at the top of your "to visit" list and be sure to pack warm clothes. Happy Travels!