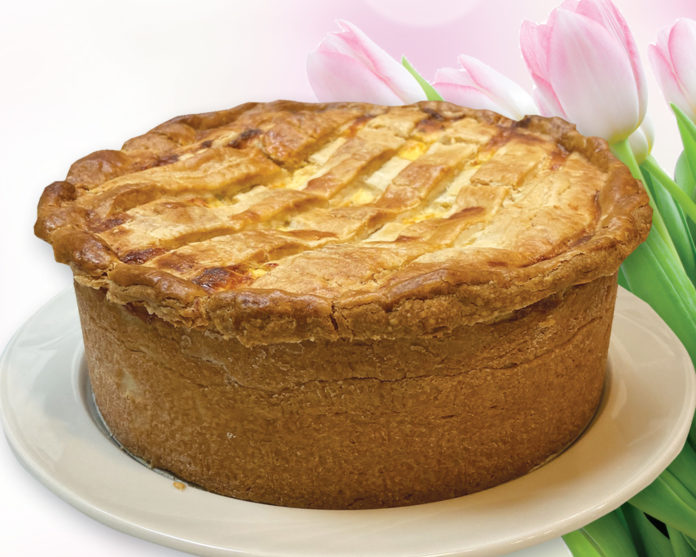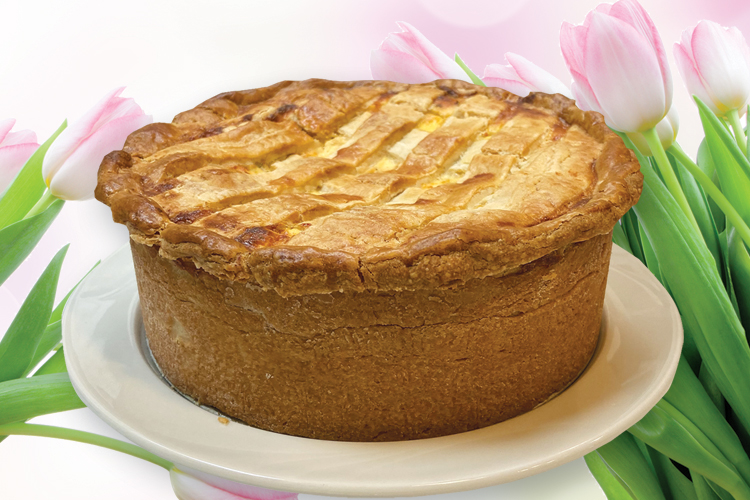 As we welcome the birth of Spring time and Easter with open arms, my thoughts bring me back to a delicious and savory family tradition. Pizza Rustica, (a.k.a Pizzagaina), which despite its name has nothing to do with pizza–is filled with flavor. A hearty and rich deep dish pie, Pizza Rustica has a creamy custard-like texture and a taste that is just heavenly. It incorporates the sweetness of cream and slight saltiness of various cured and fresh meats—a combination that will never disappoint your taste buds! My mother prepared this for our family at Easter every year and we would often have a piece for breakfast or brunch before the large holiday dinner meal. Although this pie can be served any time of year, my mother always said it was an Italian recipe inspired and created to break the forty days of lent, after meat had not been eaten. Serve this recipe warm, cold or at room temperature. Similar to a quiche torte, it is packed with a variety of meats and cheeses (selected to your liking), all nestled into a golden buttery pie crust.  As with many other Italian recipes, Pizza Rustica varies from region to region, town to town and certainly from cook to cook. Unfortunately,  even though last Easter was a bit different due to the pandemic, I still kept the tradition going and  delivered these pies to the doorsteps of my loved ones. Happy Easter and Happy Spring from my kitchen to yours!
Enjoy! xoxo Denise
For the pastry dough:
(I use boxed Pillsbury already prepared folded dough) 
2 crusts to a box
---
For the filling:
1 lb. of whole milk ricotta
12 ounces fresh mozzarella cut into small dices
4 ounces ricotta salata cheese cut into small dices
1 cup shredded sharp aged provolone
1 ½ cups grated Parmigiano-Reggiano cheese 
or Pecorino Locatelli
1 T olive oil
1 small Vidalia onion diced
¼ cup fresh Italian parsley chopped
6 links of Italian sausage (decased)
4-6 ounces of Italian Mortadella cut into small dices
4-6 ounces of prosciutto cut into small dices
4 ounces of sopressata or dried Italian salami cut 
into small dices
4 ounces of cooked ham cut into small dices
6 Large eggs lightly beaten
Fresh ground pepper
Sea salt or kosher salt 
¼ cup of half and half
1 egg beaten with a T of water to make egg wash
    Using a 9-10 inch spring pan or a deep dish pie plate, mold your pastry dough to fit, (saving one for the top).
Note: Rub pan with olive oil and dust with flour.
    Decase your Italian sausage, crumble into small pieces, and brown up in a frying pan with 1 T olive oil; drain and remove. Add 1 T olive oil and onion and sauté until soft or almost golden. Then, in a large bowl: mix all ingredients well together and put into pie pastry pan. Cover with remaining dough (you can cut strips to make a lattice top if you desire). Pinch all edges closed and place a couple of slits into the top of your crust. Brush with egg wash and put into an oven that has been preheated to 350 degrees. Cook for approx. 1 hour and 15 minutes or more, depending on your oven. Cool and let sit for 20-30 minutes before slicing.