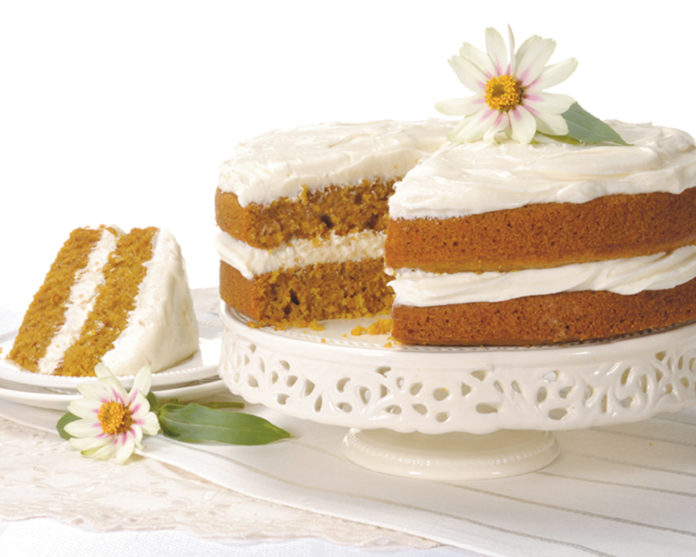 Here's What You Need:
1 pound carrots – finely ground using a food processor 
(baby carrots recommended), or large carrots – 1 pound peeled cleaned and shredded. Note: usually 1 pound package of carrots yields about 2 cups.
1 ½ cups sugar
4 large eggs
2 cups flour
1 tsp baking soda
1 tsp baking powder
1 tsp cinnamon
½ tsp salt
1 ¼ cups vegetable or canola oil
Here's How You Do It:
Preheat oven to 350 degrees. Prepare two 8 or 9-inch cake pans lined with parchment paper and gently greased. Mix carrots, sugar, and eggs in a bowl. Add in flour, baking soda, baking powder, cinnamon, and salt; stir to combine. Then slowly pour in oil; mix. Pour mixture into prepared pans. Bake for 35 – 40 minutes, until the center of the cup cake springs back when lightly touched. Allow to completely cool and then frost with Cream Cheese Frosting.
Cream Cheese Frosting
Prep Time: 15 min.
Here's What You Need:
(for naked sides; if you want to frost the whole cake,
double this recipe.)
1 8-ounce brick cream cheese, softened
1 stick unsalted butter, softened
1lb. confectionary sugar
1 teaspoon vanilla extract
Here's How You Do It:
In a mixing bowl, beat cream cheese and butter until light and fluffy, for about 5 minutes. Add confectionary sugar a little at a time until fully incorporated. Add vanilla extract and enjoy!