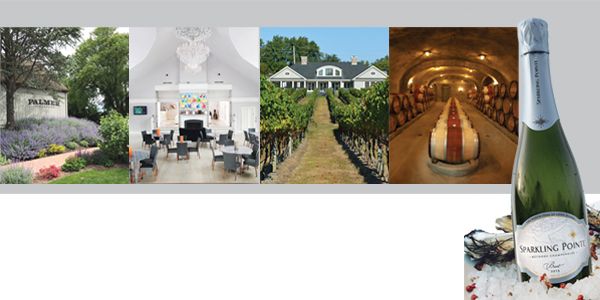 Katherine Andrianas

Long Island is home to some of the best vineyards around. Offering tons of events, live entertainment, tastings and tours, there is always something fun going on. So, if you're looking for a full day's worth of activities, check out what our favorite vineyards have planned!

MARTHA CLARA
6025 Sound Ave., Riverhead
2U In Concert
Saturday, April 27th 7:30PM-9:30PM

Enjoy an unforgettable night filled with good music and some of the best wine. At just $30 per perso­n for standing room and $40 for seating, each ticket includes a glass of wine. Doors open at 7:00PM and the concert begins at 7:30PM.

PALMER VINEYARD
5120 Sound Ave., Riverhead
Welcome to the Weekend
Every Friday starting in May
All-day oyster bar and fire pit
Live music from 4:00PM-8:00PM
Every Saturday
All-day food truck Live music from 1:00PM-5:00PM

PINDAR VINEYARD
37645 Main Road (Route 25), Peconic
Spring Winery Tours
Sat, Apr 6th- Sat, May 18th
2:00PM-3:00PM

Find out how your favorite wine is made by going
behind the scenes into the barrel and tank rooms of Pindar Vineyard. At $20 per person, enjoy a
select tasting of five wines after a tour of the
production facility.

RAPHAEL
39390 NY-25, Peconic
The Second Hands
Sunday, April 14th all day

This folk and Indie acoustic duo is comprised of
songwriters Geoff Schroeder and Laura Hoch. With many songs about love and relationships, they explore personal experiences that reflect basic human emotion.

SANNINO VINEYARD
1375 Peconic Ln., Peconic
Wine & Food Pairing
Saturday April 13th 6:00PM-7:30PM

Pairing certain wines with the right food can be a
challenge. That's why for just $55 per person, this hour and a half class will teach you how different
flavors interact with various types of wine.

SPARKLING POINTE
39750 County Road 48, Southold
Sparkling Wine &
French Macaron Pairing
Saturday, April 20th Price: $27.00 – $30.00

Includes three French Macarons paired with a flight of three sparkling wines. A three-day
advanced booking is required.