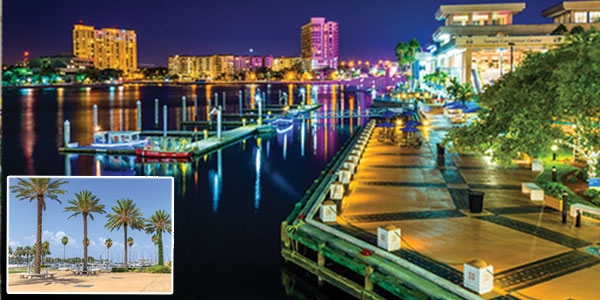 Kathy's work has appeared in The Long Islander, Long Island Woman, Calyx, Blue Unicorn, and Seventh Quarry. She facilitates a monthly women's writer's group at the Life Center in Huntington. Kathy offers freelance writing, editing, and proofreading services (kahorowitz@gmail.com) www.kathyhorowitz.com.

I recently visited with my elder son, who lives on the East coast, and father, who's on the West coast. As time was spare, my son agreed to come to the west side, which, in my experience, has much to offer not to mention 361 days of sunshine. Here are some highlights (www.visitflorida.com).

Tampa. Known for the best beaches on the West coast, Fort De Soto Park has been named America's "Best Family Beach" and Clearwater Beach has been touted "Best Beach Town." Stroll along the Riverwalk, which affords so much to see including a weekend outdoor farmer's market. And if you're a sports fan, the dome at Tropicana Field is home to the Tampa Bay Rays baseball team and the Lightning ice hockey team.

St. Pete Beach, Treasure Island, and Sunken Gardens. St. Pete Beach spans miles of pristine ocean beaches and is home to the famous Don Cesar Hotel where you can enjoy a breathtaking view of the Gulf of Mexico during lunch or dinner, inside or outside. Numerous resorts dot the beach where wind surfing, jet skiing, kayaking, and other water sports abound. Sunken Gardens is home to 4 acres of paradisal botanical gardens in the Historic Old NE neighborhood of St. Petersburg. View the lush plant life and blooms as well as the pink flamingoes, macaws, parrots, and koi pond. Adjacent to St. Pete is Treasure Island. Be sure to visit John's Pass Village and Boardwalk where there are shops and dining in an old fishing village. Check out the daily sailings with the Pirate Ship Royal Conquest.

Gulfport. About a half hour from Tampa and ten minutes from St. Pete Beach is Gulfport, a well-known artist's colony. Shore Boulevard boasts many eateries along the Boca Ciega Bay (and pier) including the infamous O'Maddy's where you can sit outside and watch the sunset while having a drink and a bucket of clams. Take a walk along the pier and friendly brown pelicans will welcome you while patiently awaiting spare bait from the fishermen. On Beach Boulevard visit the many boutiques where innovation is the norm. You will be sure to come away with a unique gift, antique, piece of artwork, or handicraft. Walk up to 58th Street from Beach Boulevard and you'll see the outdoor exhibits of local artists.

If you are looking for a new vantage point while visiting Florida, the West coast is sure to satisfy everyone's vacation needs. Happy Travels!