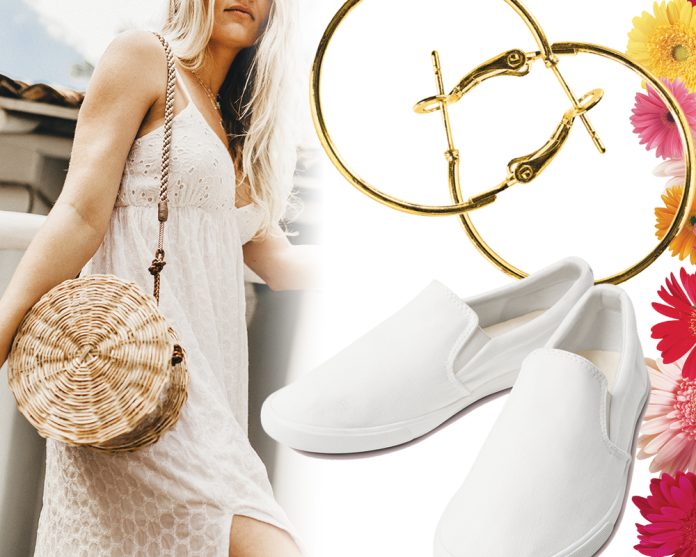 ---
Summer is just around the corner. With her arrival comes the need for clothes that will keep you cool, comfortable, and, of course, feeling fabulous. Each season has its own list of trends and essentials. Let's look at those you'll need for a great summer closet.
With higher temps come lighter colors and fabrics. A few pieces in white will undoubtedly give you the start of many great ensembles. Be sure to include a white dress, T-shirt, tank top and pair of shorts. With any one of these as the anchor for your outfit, you will be off to a good start. A slip dress is always a good choice for summer. Consider a little longer than average for this year's length. Try a light grey or off-white for an easy, breezy look.
A neutral walking short is a must for every summer wardrobe. Dress them up or wear them as part of an everyday look. Be sure to have a jean jacket in your closet along with a light cardigan. Long or short, they're a great addition to any wardrobe and will keep you cozy on cool nights after the sun sets.
Jewelry and accessories are often able to steal the show against summer ensembles that are notably neutral or white palettes. Metallic jewelry in silvers and golds add a sparkly pop to any outfit. Consider hoop earrings, a simple necklace, a statement ring, or a wrap bracelet. Be careful to avoid wearing too much jewelry. One piece says a lot; several pieces say too much. A large summer tote is both practical and stylish. Go for a canvas tote or a woven weave (think raffia) in a generous size. They look great and come in handy on day trips when there is more to carry about. A fabulous summer hat, wide brimmed and in a woven weave, can turn a basic summer ensemble into a true head turner. Try on different styles and find the one that works for you.
Light and fanciful, summer sandals are a must for every closet. Whether you choose a platform espadrille or a classic two-strap, have at least one of these as your go-to. This is also the perfect time of year to add a crisp, white pair of sneakers to your collection. The bright white will work seamlessly with a wide variety of ensembles. Lastly, be sure to have a simple slip-on ballerina shoe to move around easily and look great doing it.
With these essentials in your closet, you'll be able to add a few trendy pieces for the season. That's the trick all year long – keep timeless pieces at the ready. Buy good fabrics that will last and be sure to give them the care they deserve. Then add a few seasonal, trendy elements for a look that always dazzles. Dressed to go out or simply casual, your style will be flawless as you look your very best.
---