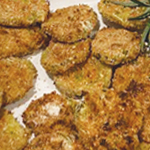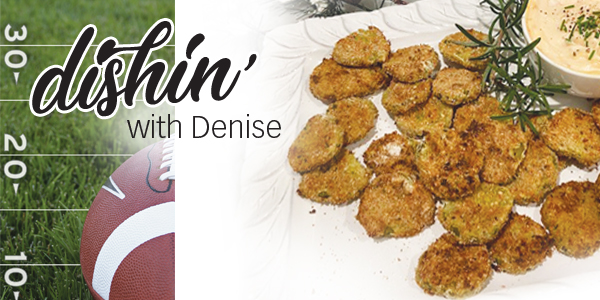 Denise Gianatasio is a Northport Village resident, freelance writer and licensed
agent at Signature Premier Properties in Northport. Please feel free to contact her
for any advice you may need at dishinwithdenise@yahoo.com.
It is here … that Sunday all you football fans have waited for, so kick it off with tasty bites for game watching! Whether you are staying at home and hosting Game Day, or contributing to a get together, these mouth-watering pickles are a must try! Super simple to prepare and worth the bit of effort. Fried pickles got their start in the South as a snack food and have become a popular favorite across the U.S., appearing on restaurant menus everywhere.  This crowd pleasing finger food is sure to score a touchdown every time. The crispy breaded outside gives way to the tangy pickle, creating a combination that is simply savory. You can fry them, but I like to keep the recipe a bit healthier with this oven baking alternative, which yields the same crispy results. I also make a very easy dipping sauce that you can serve alongside your pickles as a delicious complement. The only real problem you may encounter with an appetizer like this—getting them into the living room as they usually get gobbled up faster than you can make them. So, go ahead and make yourself the Winner at this Game and become the MVP of the party! Trust me, your whole team will thank you! Enjoy the taste and the Big Game! It's a Win-Win for you! Xoxo Denise
You will need:
1 cup of kosher pickles cut into 1/4 inch slices and patted dry with paper towel
½ cup flour
2 eggs beaten well with 2 T olive oil
1 cup seasoned bread crumbs
Fresh black pepper
1/8th teaspoon of cayenne pepper (or more if you like hot)
3 seperate bowls for the flour, the beaten eggs, and the bread crumbs with pepper
1 flat baking sheet (gently greased with a little bit of oil)
Preheat oven to 425 degrees. Slice your pickles, patting a bit of the moisture off with paper towel. Lay pickles on a flat dish. Then, one slice at a time, add flour to both sides. Dip into egg mixture and then into breadcrumb mixture. Place on baking sheet and cook for 10 minutes or until golden brown and crispy.
Dipping Sauce: ­
(Mix these ingredients in a small bowl and refrigerate until needed.)
¼ cup mayonnaise
3 Tablespoons of ketchup
¼ t garlic powder
½ teaspoon of fresh black pepper