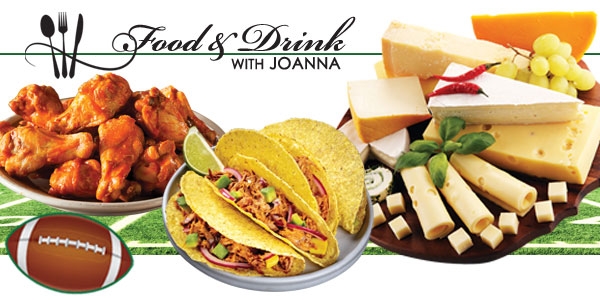 Joanna Adduci is a Northport resident,
currently working as a Marketing & Social Media Specialist. She has a B.S. in Journalism from St. John's University and is active within her community as a writer and mentor. Joanna can be reached by email at LISAVORYEATS@gmail.com.
There is nothing I enjoy more than hosting a party at my house. I love preparing cheese and charcuterie boards, cooking a surplus of main dishes and sides, and decorating the space with fun Pinterest finds. One of my favorite days to host is Superbowl. It's casual, lively, and encourages a table filled with appetizers and dips.
Let's talk food. For Superbowl, I usually prepare a long table (buffet-style) and present fun, interactive finger foods such as nachos, homemade pretzel bites, deviled eggs, sliders, and of course, wings. I prefer to make a variety of wings, such as buffalo, lemon and parsley, and lemon pepper. As a rule of thumb, I'll have some meat-free, gluten-free, dairy-free and keto options for those still upholding their new year resolutions. Pretzel bites may come with a dairy free mustard dipping sauce. Nachos, I will use corn chips, instead of flour. And wings will be pre-marinaded, grilled and finished in the oven. As a fan of deviled eggs, I usually have these on hand for those looking for a higher protein snack, free of gluten. Look at your guest list, ask for allergies & preferences, and go from there.
Lastly, no party would be complete without a charcuterie board, and cheese board. I have invested each year in an assortment of beautiful olive wood boards, some engraved, all perfect for hosting at the house. Generally, I'll look to experienced food stylists and Pinterest boards for inspiration. Get creative! I usually add dried fruits, fresh fruits, olives, sweet and spicy peppers, honeycomb – the list goes on and on. Also, incorporate your event into the board – use one of your semisoft cheeses to create a football, or think of fun tailgate ideas to replicate!
Party main dishes can be easy, if you opt to use your favorite cooking vessels such as the crockpot, Instant Pot, and/or broiler. For me personally, I use 2-3 crock pots and prepare a pulled pork or chicken, and a pasta dish. Pulled meats pair with a taco station, and pasta pairs with a salad station. Easy clean up, fun delivery, and buffet style. Once again, get creative – and work with your guests' preferences.
Super Bowl is a perfect time to gather family and friends and spend time together – regardless of your sports knowledge. Get creative with the menu, décor, and presentation. Remember to ask your guests if they have any allergies or preferences in advance and look to experienced food stylists and bloggers for inspiration. (Pinterest is a great place to start!) Most important of all – have fun! Have questions? Feel free to email me directly for more tips and tricks.