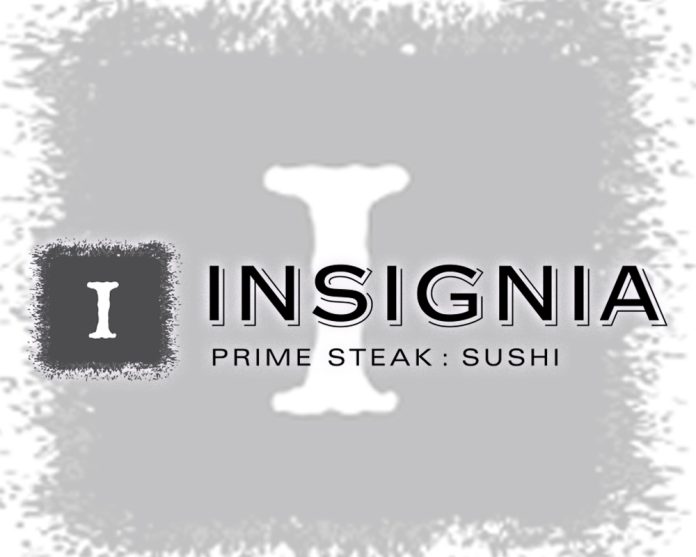 631-656-8100  :  insigniasteakhouse.com
It is no secret that Insignia Prime Steak and Sushi is a success story that remains consistent with the legacy of the Scotto restaurant brand. Managing Partner and General Manager Emir Radoncic clearly explains "you must get to know your customers and insure satisfaction one table at a time." In all the years I have come to Insignia, it is customary to see Emir working the floor, connecting with his patrons. "By far, this is the most critical element of our success," says Emir. 
As you drive up to the property, Insignia can best be described as a majestic country mansion with its interior filled with warmth and opulence. Plenty of comfortable horseshoe styled booths too, for family size gatherings. Unlike traditional steakhouses, Insignia delivers a perfect balance of premium steaks, the freshest seafood, with an impressive display of sushi creations that have become a trademark of the Scotto restaurant group. 
This Tuesday night, the dining room was bustling and so were the specials. The King Lobster Roll appetizer comes presented in 10 oversized rolls made with spicy lobster, cucumber, avocado, topped with Wild Alaskan King Crab Meat and sweet mustard drizzle. Enough for two to share. A better tasting sushi roll, you will not find anywhere. The Australian Wagyu Brisket French Onion soup elevates this traditional appetizer, next level. A savory rich beef broth with morsels of tender brisket and brioche croutons with slightly charred gruyere cheese was over the top delicious! 
For mains, I cannot seem to break away from the traditions of what their Bone-In Ribeye delivers. A stunning medium rare 24oz portion cut like butter. It is those first few bites along the rib cap that I just never seem get tired of, and at Insignia the consistency is uncanny. My partner had the Atlantic Swordfish. A thick center cut portion placed on a bed of root vegetable ragout. Spooned over the sword was a black olive tapenade. A salty, brine condiment enhanced the flavor profile of the fish. Insignia takes their seafood seriously. Fresh, flavorful and with the ragout veggies made this dish comfort food status. To accompany our entrees were sides of roasted cremini mushrooms, grilled artichokes, and a garlic mash. 
One of their more popular desserts is their Celebration Platter. Great for special occasions, your party will be dazzled by the presentation. With sparklers abound, indulge the New York style cheesecake, chocolate mousse cake, two cinnamon sugar donuts topped with shaved white chocolate, raspberry sauce and vanilla ice cream. Since it was my birthday, they added a stuffed Nutella cookie served with, oh yes, another scoop of vanilla. 
Insignia with its spacious bar suggests that you begin your dining experience here. Get there a half an hour before your party arrives and relax with one of their signature cocktails. Defined in the dictionary as a badge or distinguishing mark, Insignia Prime Steak and Sushi, in their eleven years of successful hospitality, has certainly lived up to their brand name reputation.
---