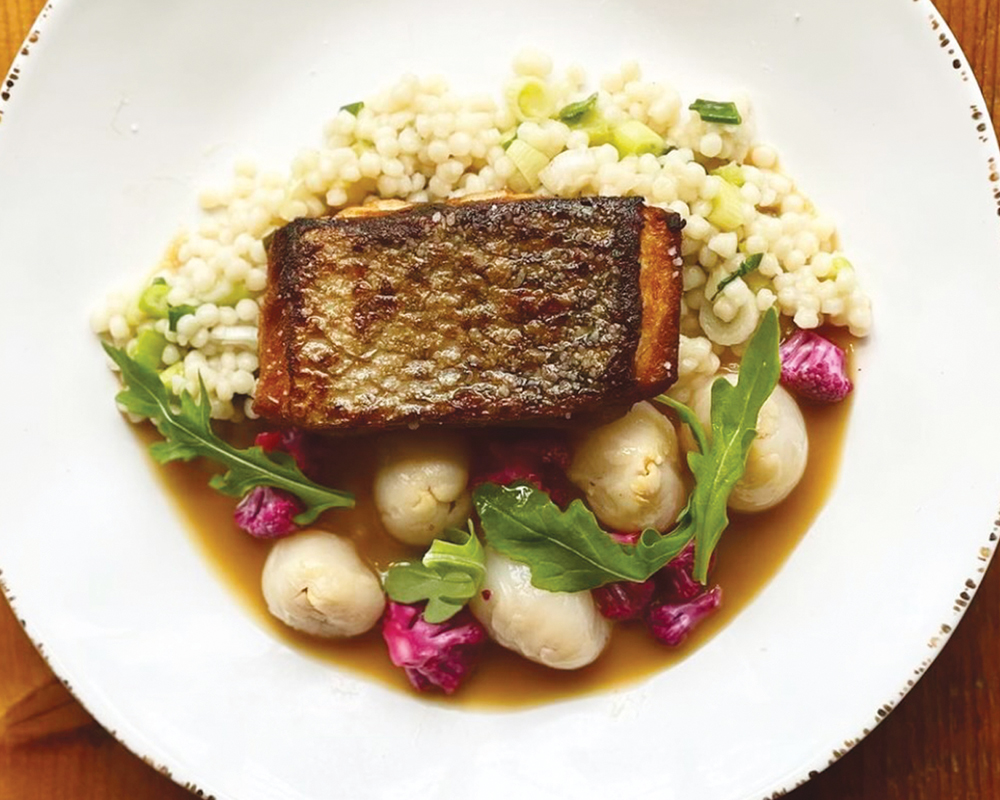 Ever since Food Network's "Chopped" Champion, Eric LeVine opened 317 Main Street, heads have been turning and talking. Located in Farmingdale, this gastropub has quickly positioned themselves as cool, hip and artfully creative.
Chef and partner, Eric LeVine, graduated from The Culinary Institute of America. With over three decades under his belt, he was inspired to create a unique and whimsical dining experience for his patrons. As an honoree of the Restaurant Guild International's "Five-Star Chef of the Year Award," Chef LeVine has clearly defined his mastery in the kitchen.
An American nouveau cuisine, 317 Main Street's menu is notably diverse, which continues to intrigue its customers. I have been to 317 Main Street several times and would like to share some of my recommended favorites.
Once seated, you will be welcomed with a delicious treat of fried and crispy sweet potato thins, served with a chipotle aioli – they are sinfully addictive. For starters, try the charcuterie board; beautifully presented with a variety of Italian meats, complimented with aged cheeses, fig jam and olives. A great way to begin picking with a nice glass of wine or cocktail. The Prosciutto-Wrapped Burrata is another great way to begin. Incredibly silky, this triple cream burrata matched well with the salty and savory prosciutto.
For mains, the allure for me is the seafood. The locally sourced "Pan Seared Scallops," are meaty yet tender and delicate. Scallops can be a little bland, but when served over their corn risotto, the flavor profile elevates perfectly. The "Basil and Garlic Shrimp" which sits on a bed of pancetta risotto with artichoke, olive and tomato, was delish! Plump shrimp marinated in garlic, basil and olive oil, makes this entree explode with flavor. Round out your meal with the "Deconstructed Cheese Cake" (yes…deconstructed). A creative presentation that was kind of fun to pick at, but with a comforting cappuccino, it pulled the finale together flawlessly.
If you love burgers, then stop right here. Chef Eric's concoctions, are towering giants that pack immense flavor. No kidding! They are amazing. A blend of chuck, short loin and brisket, makes their burgers irresistibly juicy and savory.
Want to elevate your dining pleasure? Reserve with a party of six at the "Chef's Table." The LeVine team will create, present and serve a customized tasting menu just for your party. Learn more by going to 317mainstreet.com. It will be an experience you are certain to remember. Can't make it in for dinner? Come in for Sunday brunch.
My pick is the "Chorizo Egg Skillet," sumptuous scrambled eggs piled on a bed of potato hash, laced with crumbled chorizo, pepper jack cheese and fried jalapeño. You will not leave feeling hungry.
Don't forget to check out their Marketplace at the back entrance. Discover irresistible desserts with plenty of grab-and-go sandwiches, meat and cheese boards and so much more.
With their diversity, unique cuisine and Food Network "Chopped" Champion at the helm, 317 Main Street is definitely a place worth coming to.
317 Main St, Farmingdale, NY 11735
516.512.5317
Restaurant| Farmingdale, NY | 317 Main Street