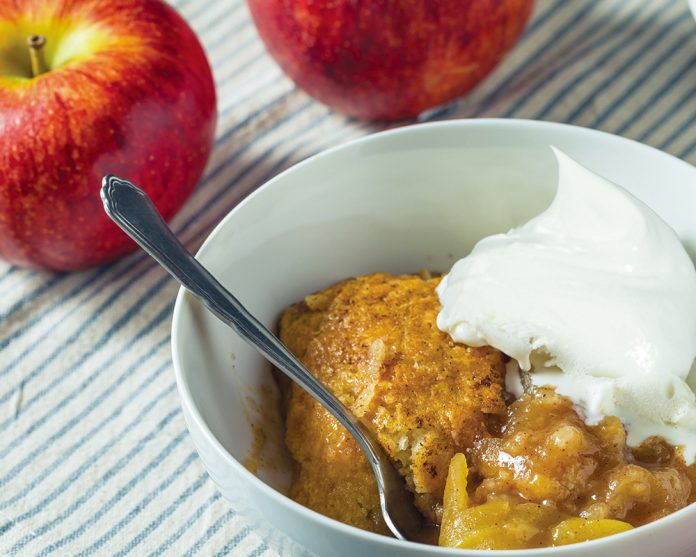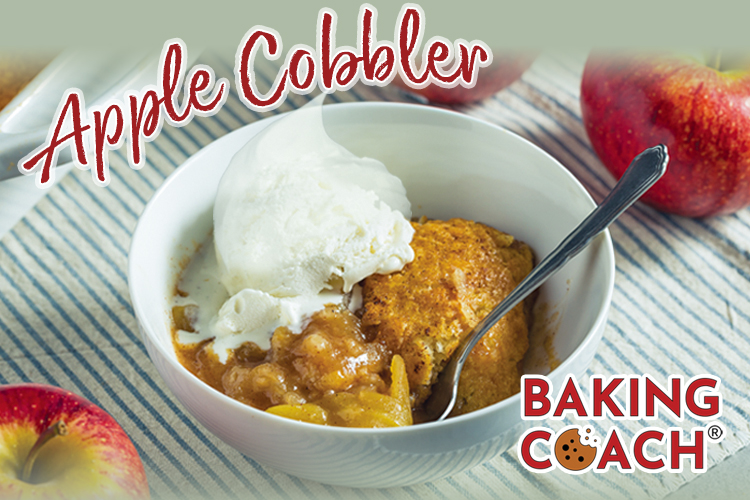 ---
---
HERE IS WHAT YOU NEED AND HOW TO DO IT :
FILLING :
3 large apples (Granny Smith) but any apples will do!
2 tablespoons water
¼ cup brown sugar
½ tablespoon cornstarch
½ tablespoon lemon juice
½ teaspoon vanilla extract
1 teaspoon cinnamon

⅛

teaspoon nutmeg

⅛

teaspoon salt
TOPPING :
⅔

cup flour

⅔

cup sugar
1 ½ teaspoons baking powder
¼ teaspoon salt
½ cup milk
4 tablespoons melted butter
½ teaspoon vanilla extract
Cinnamon Sugar = 1 tablespoon sugar + ½ teaspoon cinnamon for topping
HERE IS HOW YOU DO IT :
Preheat oven to 350 degrees.
Grease a 9-inch round or square pan, set aside.
Peel, core, and chop apples into ¼ to ½ inch slices.
In a large bowl combine: brown sugar, water, cornstarch, lemon juice, vanilla, cinnamon, nutmeg and salt. Add in apples and toss to coat. Pour into the prepared pan. Rinse and wipe out the bowl and reuse for the topping.
Mix together flour, sugar, baking powder, and salt. Stir in milk, butter, and vanilla, and mix until combined.
Pour batter over the apple mixture, spreading it evenly; sprinkle the top with prepared Cinnamon Sugar.
Bake for 35 to 40 minutes and cool in the pan for 20 minutes before serving – this is a good time to get your whipped cream ready. Scoop and serve warm. Store any remaining cobbler in the fridge. Keep uncovered until it is below 41 degrees, then cover with plastic wrap. Store in the fridge for up to 5 days and freeze for 1 month.
---
WHIPPED CREAM :Prep and mixing time:Approximately 5 minutes – using a stand mixer-(may take a few minutes longer with a hand mixer)
HERE IS WHAT YOU NEED AND HOW TO DO IT :
1 cup heavy cream
2 tablespoons powdered sugar
½ teaspoon vanilla extract
In a large bowl, whip cream with an electric mixer on low speed until cream doubles in size (this will take about 5 minutes). Then increase speed until the mixture forms soft peaks. Beat in powdered sugar and vanilla increase speed to high until stiff peaks form.
Helpful Hints : It's always best to use a chilled metal bowl when making whipped cream. So, place your bowl in the refrigerator a few hours before you use it.Make sure your bowl is completely dry before adding ingredients.Do not over mix. Whipped cream will become clumpy if over-mixed.
---
---