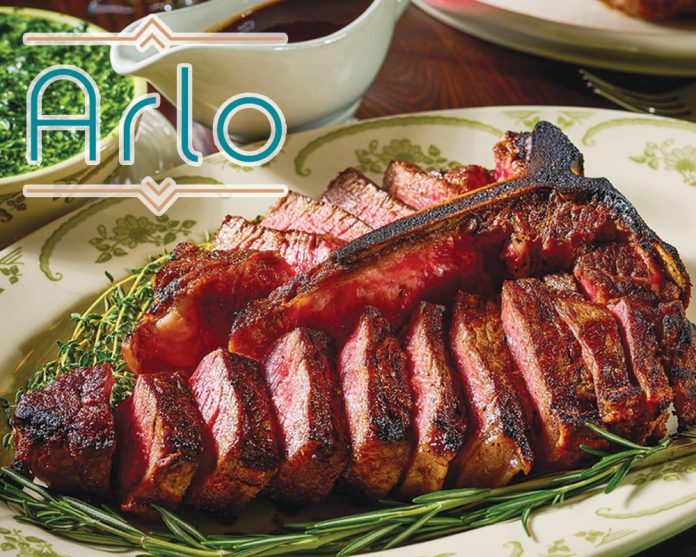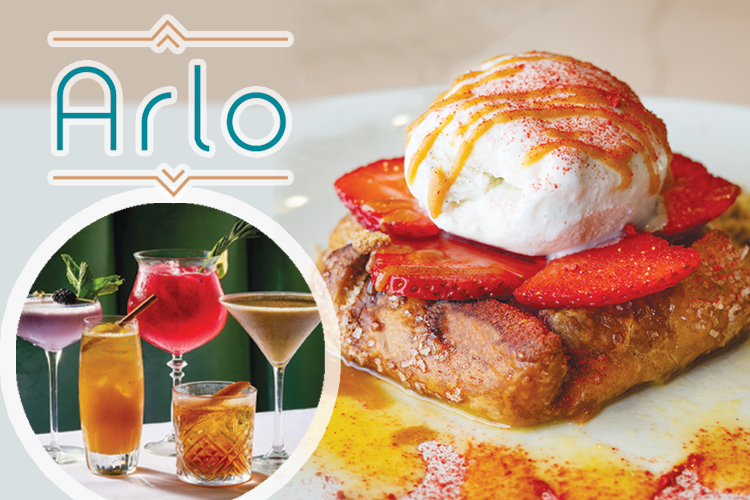 1036 Fort Salonga Rd., Northport 631.491.2756
by Marc Piperno
    In Latin, the word Arlo signifies the strength of a fortified hill, an inspiration that has driven owners Andrew Affa and Steve Squitiro to build Arlo Kitchen and Bar into what it has become today.
    Opening their doors 8 short months ago, Arlo Kitchen and Bar has since become one of the few new restaurants around that has gotten high marks for its ambience, service, and exceptional gastronomic fare.
    Arlo speaks to a new calling of diners that long to break away from the mainstream, that has created a wave of excitement – and for good reason.
    Well-appointed with circular booths throughout, Arlo has a cool vibe that elevates the social aspect of breaking bread. They say you eat with your eyes first. For me, the experience begins with what I hear. Our server had a level of enthusiasm rarely seen. More than eager to share with us his passion for food, like an artist painting with his brush, so it went for Alex that gave us an articulate visual of good things to come. His enthusiasm poured over and could not wait to get started.
    Wedge Salad; Iceberg lettuce, cherry tomatoes, red onions, bacon lardons, crumbled blue cheese and a creamy roquefort dressing
    Charcuterie Board; A variety of cured meats with selections of 3 imported cheeses, accompanied by dry fruits, jam and grilled bread. Artfully presented and paired well with an Old Fashioned.
    Signature 40 oz Porterhouse; steak for two sliced table side, presented and plated beautifully. A well-crusted exterior, not overly salted at medium rare, whose quality is on par with any top rated steakhouse.
    Though the steak was more than enough, I've heard so many amazing things about their pasta that I had to go in. Lobster Pappardelle; generously presented wide-ribbon pasta, in a lobster cream sauce, with chunks of whole Maine lobster with blistered cherry tomatoes, parmesan, anchovy bread crumbs and fresh basil. Umm, comfort food status.
I take my sides seriously, and thank goodness Arlo does not disappoint.
Kitchen Sink Potato; it reminded me of Spain where Patatas Bravas rules. Potato wedge morsels laced with shallots and a garlic aioli was sinfully delicious. Balancing out the starch were their Wild Mushrooms; forest fresh, sautéed with shallots, toasted pine nuts, and fresh thyme.
    Dessert anyone? Strawberry Crostata Alamode; an Italian baked pie in a rustic free-form with fresh strawberries, vanilla ice cream was a wonderful palate cleanser.
    Pulling on the heart strings was their Chocolate Mousse Cake; with peanut butter brittle. Rich in flavor. Pure decadence.
    The cuisine can best be described as New American. An open kitchen concept combined with a diverse menu showcasing a fresh seafood raw bar, homemade pastas, wild caught seafood and aged prime steaks make Arlo the kind of place that you will never seem to tire of.