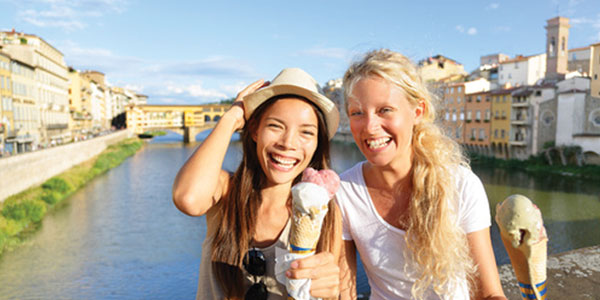 Yvonne Bonasera holds a Bachelors degree in International Business from LIU and JCU in Rome, Italy. She is a travel consultant, blogger and teaches Italian, and has visited over 26 countries
across 5 continents. Yvonne can be reached at ymbtravel@gmail.com.
Just when I think I've seen it all, Italy has its way of surprising me; each trip offering a new and unique experience that can never be recreated no matter how many times I visit.
Italians have perfected l'arte di rilassarsi – the art of relaxing; the 5 course lunches, 4 hour diners, socializing with friends and family into the wee hours of the night. The most important tip when traveling to Italy is simply to be present. Take it all in – people watch, sit at a local park with a double scoop of gelato, along side the crystal clear water, or an outdoor cafe.
Most people think of Europe, in particular Italy, and associate big expenses. But, it's possible to get Italian luxury and decadence on a budget. For example, a hearty Sicilian lunch that consisted of 4 entrees and drinks for only $11USD? Yes, please! Take advantage of aperitivo hour – cocktails, glasses of Aperol Spritz or Prosecco are accompanied by free canapés and other appetizers. This will help curb any hunger leading up to the late, 8 or 9pm dinner time.
Indulge in local street foods, each region has its own claim to fame and the best that you've tasted in the world. Rice balls and cannoli from Sicily, onion flavored gelato from Tropea, risotto from Milan, prosciutto and cheese from Parma… only order foods typical of the region! Save your appetite by starting the day off with a pastry and a bold cafe`. Expert tip: never order a cappuccino after 12 noon – it is for breakfast only!
Since deviating from the menu is frowned upon, grab your dictionary and go on a culinary adventure! Test out restaurants that do not have English translations of their dishes – it'slikely more authentic and where the locals go.
Sometimes, the best plan is to not have any plans at all. Hit the main, "must see" sights, and then schedule a day to roam. Although public transportation is cheap, walk as much and as far as possible. The winding streets come to life with aromas of fresh baked bread or the symphonies of melodic chatter. Listen carefully and it's almost guaranteed you'll hear Volare blasting from a window.
My most favorite memories occurred on days with no true destination in mind. While road tripping along the coast, stumbling upon an old farm turned restaurant (called an agriturismo) in the countryside, or wandering about soaking up the Sicilian sun. It is the only way to discover the most picturesque landscapes that no matter how many photos are taken, an iPhone camera can do no justice.
For the most authentic, genuine experience, rent an apartment. Go to the grocery store, better yet a food market and cook meals using local (fresh) ingredients. This is a cost saving tip, but also lends itself to serendipitous experiences that no guide book can advise.
The key is to go beyond the city center and major tourist attractions. Here exists the "real Italy," the heartbeat of a culture that values relationships, social interactions, great food and above all, quality of life.