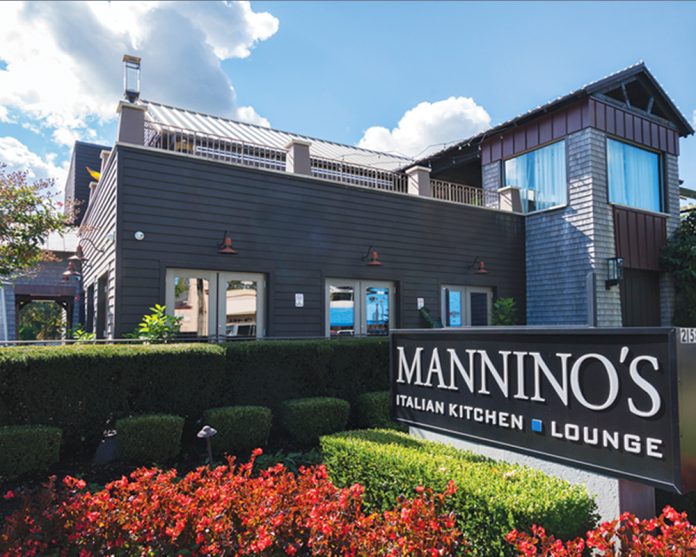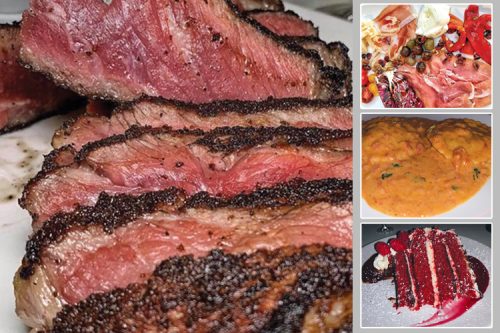 Mannino's Italian Kitchen & Lounge
Joe, Frank and John
Owners
There are but a few business owners on Long Island, that own three successful restaurants, each with their own unique characteristics and style.
In 1996, brothers Joe, Frank and John Mannino began their journey with the opening of their first restaurant on Commack Road. Since then, their vision has grown to three locations, that include Smithtown and Oakdale. Five years ago, they took a leap of faith and decided to relocate the Commack restaurant to a new property, built from the ground up, on Jericho Turnpike. By most standards, it has become their flagship restaurant and is clearly distinct from any other establishment for miles around.I've known the Mannino's since their inception, and have grown to appreciate what it takes to build a family brand synonymous with distinctive quality and exceptional service.
Though I've been to their restaurants many times, I asked Joe Mannino if he would show me his culinary chops with a four course tasting menu. Included were a variety of dishes, paired with some amazing wines. Guided by their General Manager and Sommelier, made this 3 hour dining experience, one that I will remember for a long time to come.
We began our dinner with three appetizers; Grilled Polpo; octopus has a tendency of being a little rubbery or tough, but this starter appeared to have been braised, then Charcoal grilled, tossed with endive, roasted peppers, lemon and extra virgin olive oil.  A colorful medley, that was light and delicious. Old World Meatballs w/ Fresh Ricotta;  a traditional southern Italian classic. Tender, juicy, and flavorful in a simple tomato sauce, paired with creamy fresh ricotta, played well with the acidity of the tomato sauce. Culatello di Zibello; one of the rarest prosciuttos from Italy, aged 36 months was a real treat. Plated with Mozzarella di Bufala was incredible. Its creamy, texture, complimented the savory cured meat very well, making it a winning combination.
Our next course; Homemade Wagyu Beef, Porchini Mushroom Ravioli; 2 ravioli immersed in a light cream sauce with a touch of tomato. Three words; silky, creamy, savory. Perfezione!
Main courses included; Pollo Alla Scarpariello; every Italian eatery has this classic, but the Mannino's put a little twist on the typical.  A Half chicken was presented, uncut with sliced fingerling potatoes and sweet sausage, accentuated with garlic, rosemary in a light lemon and wine sauce. Higher notes of lemon, seem to cut through any signs of saltiness, elevating overall flavor. White meat can be dry, but this was tender and juicy. Cowboy Style Ribeye; the star of the show was set in a hickory rub for a full day.  A bountiful 24 oz cut was plated sliced.  A charred encrusted herbs exterior, yet marbleized and juicy within, made this dish "Steak Italiano" style. The herb marinade made the steak stand apart from the traditional broil. Rib-eye is my favorite cut that packs an intense flavor profile. Mannino's steakhouse quality meat, will not disappoint.  A must on your next visit.
After the preceding, one dessert was all we could handle: Red Velvet Layer Cake;  a generous slice, layered with vanilla cream, drizzled with an irresistible chocolate and raspberry sauce, then crowned with fresh raspberries. With a classic cappuccino, forget about it!
After our meal, I sat with Joe Mannino for a few minutes and simply asked, what has been the secret to the success of the Mannino brand? In Joe's own words; "It's no secret at all. My brothers and I work on making our business better every single day. We are hands on operators and still, after 24 years, go into the kitchen, roll up our sleeves and cook. That aside, we keep our employees engaged and stress the importance of how to best present our hospitality to our loyal clientele." "The goal has been and will always be, to make certain that every single plate that is placed in front of our customers exceeds expectations."
Our focus this evening was on the food. For the wine enthusiast, be sure to know, that Mannino's staff will assist in pairing your meal with just the right glass of vino. Be ready to have your senses elevated beyond your expectations. Bravissimo Mannino Italian Kitchen and Lounge.
By Marc Piperno
2158 Jericho Turnpike, Commack
www.manninosrestaurant.com
631-462-0909