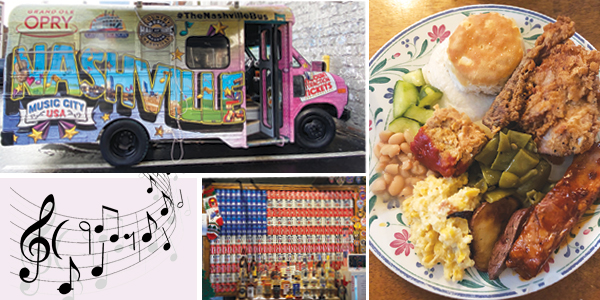 Claudia Fenner is a writer, photographer and travel enthusiast from Dix Hills. Have any travel questions you would like answered? Email her at travelingclaudia@gmail.com.
Happy Travels!

"Carnegie Hall was real fabulous, but you know, it ain't as big as the Grand Ole Opry." Patsy Cline

Grab your boots and your beer (if you are over 21) and head down to Nashville for a fantastic few day getaway. United, Delta, American and Southwest all operate nonstop flights from the New York area to Nashville. BNA is located only 10 miles east of downtown making it a quick and easy ride whether you rent a car or not. Since it was a family vacation, I decided the best way to be together was to stay at the Homewood Suites Nashville/Brentwood. Located about 12 miles south of downtown, with free parking, we comfortably fit in a 2-bedroom, 2-bathroom suite that included breakfast, and even a light dinner during the week.
Flying down, we were lucky enough to have met one of the friendliest Delta flight attendants who had hailed from Nashville. She happily gave us a laundry list of her favorite things to do and places to eat. We followed them to the letter and they were awesome.
On our first day, we took a one-hour, double decker sighteeing tour, run by Grayline which gave us a lovely overview of the city. The heart of Nashville is Broadway which is lined with bars, clubs and music venues that seem to run 24/7. The Country Music Hall of Fame is right there and so is the Ryman Auditorium which housed the Grand Ole Opry from 1943 to 1974.
Next up, was the best Southern meal we had ever eaten, from Monell's, a Nashville staple since 1995. Served family style, the idea is to make new friends at the communal tables where you pass along dishes of fried chicken, green beans, cheese grits, cornbread, biscuits and gravy, pot roast, ribs plus a drink and dessert. The menu changes daily and that's just one of the many reasons why they're so famous.
Since it was holiday time, we spent an evening at Cheekwood, a former mansion turned botanical garden, west of the city. Each night, Cheekwood glows with the magic of the season. Their one-mile loop is filled with over one million lights, 500,000 light strings, dozens of photo ops and more.
On our last day, we spent hours at Opryland. Located just a few minutes from the airport, Opryland is home to the Grand Ole Opry, as well as the largest non-gaming hotel/convention complex in the USA. There are nine acres of indoor gardens, cascading waterfalls and an indoor river with its own Delta flatboats beneath the glass roof.
Our trip was short but very sweet and satisfying… just like their tea!