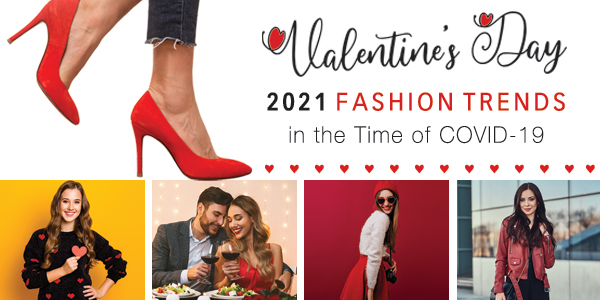 Rachael Severino is a sophomore at Sarah Lawrence College.
She is majoring in classics. A writer, ballerina, and crafter, Rachael
is attracted to all things creative.
Just because COVID-19 has locked many of us inside our homes, does not mean holidays have to be dull and drab. For Valentine's Day this year, take advantage of staying still and enjoy this intimate time with your partner. Because the location is: your home, you can dress as exuberantly as you want. This pandemic has resulted in a flurry of fashion trends; you can pick your favorites and impress your partner with your new online purchases or dress up a LBD from six years ago.
If you want to strut out of your bedroom in a brand-new outfit, might I suggest a fringe cami-dress. These dresses come in mini, midi, and maxi lengths as well as any color you think will flatter you best! These sultry, little dresses are perfectly romantic and pair well with a dainty, more-subtle necklace and some statement earrings. Strappy heels will round off the look, though bare-feet always work when in your own  home!
Animal print is another way to dazzle your partner. Step away from the notorious Valentine's Day colors and wear a zebra-print puff  sleeve dress for maximum drama. A more subdued look, that will still make you pop, is a cheetah print skirt.
Pair this with a lacey, black top for a bold look; a fuzzy, button-up cardigan for a romantic look; or a satin long-sleeve blouse for an elegant look.
For a more relaxed, but equally glamorous look, consider a silk top paired with a tapered cigarette pant. A cream or light pink spaghetti strap top will get you into the spirit of the holiday, while a pearl statement-choker and bold red lip can further elevate your look.  If you and your lover decide to take a romantic, one-on-one stroll around the block or want to sit outside and look at the stars, grab a leather jacket or velvet blazer. The contrast of leather or velvet with silk is a real classic.
Should you and your partner decide to curl up on the couch and feed each other oysters, fish out a sweater from your closet. Red, pink, and black are iconic Valentine's Day colors. If you want a sweater specific for the occasion.  I recommend something festive – with hearts on it. The Fuzzy Hearts Knit Sweater from ChicWish and the Heart Pattern Turtle Neck Sweater from Shein are both great choices. A sweet sweater paired with leggings and fuzzy socks will make for the coziest night in.
Valentine's Day is not canceled just because of COVID-19. The best thing anyone can do is take advantage of the night-in and enjoy their partner's company, because hey, that's what Valentine's Day is all about! Light some vanilla and rose-scented candles, buy a bouquet of red roses, and dress to the nines. Make the night special, even if your location is the living room or porch. Stargazing while sipping wine with the person you love is probably the best way to spend Valentine's Day, pandemic or not.