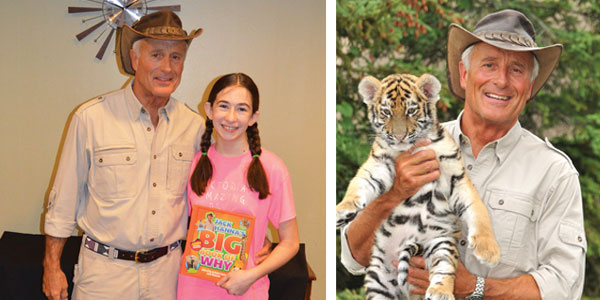 Victoria is an accomplished animal educator
and journalist who's been recognized by Dowling College and awarded by Congress for her work. Victoria also teaches in schools and libraries where she shares firsthand her knowledge and experiences in a series of educational programs that she's developed.
VictoriasAmazingWorld@yahoo.com

Jack Hanna began his career at the Columbus Zoo in 1978, when he was named director. In 1983, he made his first television appearance on Good Morning America and two years later he visited The Late Show with David Letterman. Soon, the Columbus Zoo became known nationwide – helping Jack transform it into one of the best in the world. He later began his own educational series of television shows that now include the very popular Wild Countdown and Into the Wild.
A couple of years ago, when I was just eleven, I was given the amazing opportunity to interview Jack. I asked him what he enjoyed most about doing his live shows? He said, it was "meeting the people" and the opportunity to teach them about conservation – "in a fun way". He then told me something that I will never forget. He said, no matter what you do, always remember, you must "touch the heart to teach the mind". He added, "that's what I try to do at every show".
I also asked him, what was the most important thing that he has learned from animals? He said, "respect". As an example, he said, when we go to someone's house, you should respect it, when you go to a zoological park, you should respect it and when you're out in the wild, you should respect it – because that's the animals' home.
During his show, he brings out a variety of amazing animals from around the world. Many of them, most people have not seen before. Jack also shares with the audience a variety of different stories and videos from his many experiences with animals. He talks about how he got started and about his exciting adventures since then. A few years back, after my interview with him, he gave me the opportunity to go backstage and see some of the animals up-close. I even had the once-in-a-lifetime chance to play with some baby cheetahs.
I've been watching Jack Hanna on TV since I was a little girl. He has taught me a great deal about animals and inspired me in many ways that I will always be grateful for. When I go to schools to teach my animal education class, I try my best to touch the hearts of my students, with the hope that they will learn about animals, just as I learned from Jack.
Jungle Jack Hanna is amazing to watch on TV and even more amazing in-person. He has a kind heart that's bigger than the world he's traveled. Don't miss your chance to see him live and in-person on February 16th, at The Theatre at Westbury.

Victoria's Fun Facts and Tips:

This past December, Sue and Jack Hanna celebrated their 50th wedding anniversary.

You can see my interview with Jack on my YouTube channel, Victoria's Amazing World.

Jack and the team from the Columbus Zoo take great care of the animals they travel with. The animals even stay in the hotel with them.

Jack has a great series of educational books called, Jack Hanna's BIG Book of Why. They're available at Amazon and bookstores.