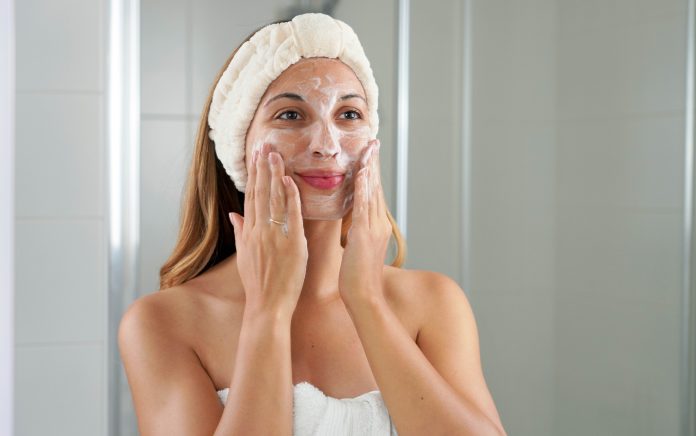 Everything seems to shine during the summertime. Trees in bloom, the gleam of the sun on the water, and the dew-kissed look of healthy skin glowing from a sustainable summertime skincare routine.
Just as we look forward to shedding layers of clothing as the temperature rises, lightening up makeup and skin care seems a bonus of summer. That does not mean, however, skimping on sun protection or moisture. Let's look at the must have items for protecting your skin and looking your best during the summer months.
Always begin your day with a good cleanser. If your skin is holding on to dirt and oils under the outer layer, the rest of your routine simply cannot do its best. Micellar water is a current favorite among cosmetologists and dermatologists alike for removing remnants of the day from your face. As with all parts of your routine, choose a cleanser designed for your skin type and maturity. With the veil rising on the taboo of talking about menopause, companies large and small are creating products for women with mature skin, understanding that their needs are important, and they often have greater resources to spend on themselves in this phase of life.
After cleansing, apply toner to close the pores and prep for serum and moisturizer. For the summer months, Vitamin C serum is a great option as is one of the latest hot products, Pataua oil. Loaded with Vitamins E and A, as well as oleic acid and amino acids, it provides skin-firming benefits with a light feel on the skin.
No matter the season, moisturizer is a must. Choose a hydration-boosting product that will keep your skin feeling dewy and refreshed without feeling oily from heat and humidity. Give a hyaluronic acid enriched formula a try for a product that draws from the water from humid air to bring extra moisture to your skin. Some women opt for a summer moisturizer that adds light tint to skip foundation. Whichever you choose, be sure to select an option with SPF to protect against the sun's harsh rays. This is a must for every age and skin type.
Eye and neck/décolleté creams are critical this time of year. The delicate eye areas need a little added attention to ensure summer squinting doesn't take a toll. A good pair of UVA/UVB blocking sunglasses, while not truly part of your skincare, will go a long way. And adding neck cream to your routine at a young age will help avoid that being the area that gives away your age as you mature.
Keep your skin care in an easily accessible space so that you can readily get to each product, lessening the chances of skipping a step. Like anything else that is good for you, your skincare routine should become habit. Think of it as one small, yet important, component in your overall wellness.
This time of year, opt for lightweight but moisture-rich products to give your skin the natural, healthy glow that is the trademark of summer. When your skin feels good, you look good …and you'll know it from the inside out. Let yourself shine with healthy summertime skin.