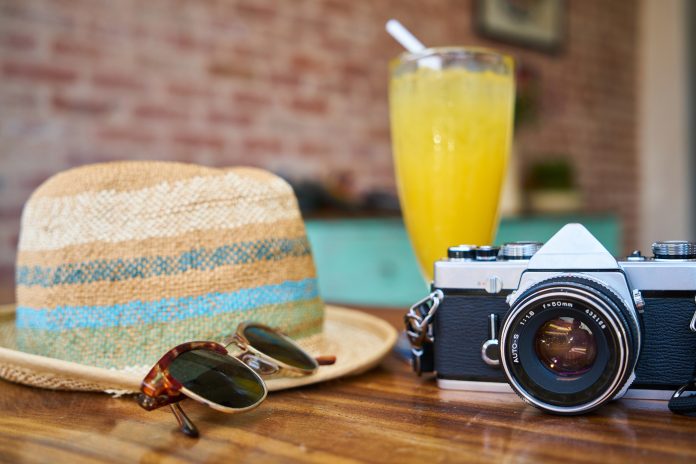 With summer fast upon us, you might have your annual vacation booked and ready. Beach resorts, backpacking, and city sight-seeing are all uniquely rewarding and emotionally nourishing. Getting prepared to go, however, can be stressful. Double checking you have your passport and phone charger, making sure there's a full tube of sunscreen, it can be overwhelming. Ensuring your bag is properly packed can eliminate a bulk of the stress.
Toiletries are in everyone's bag! Consider picking up a toiletry bag to keep all your mini bottles organized and in one place. This will make for a more seamless packing and unpacking process. There are elaborate toiletry bags, that unfold into wall-hanging organizers and there are simple pouches with pockets. They come cheap on Amazon or at luxury pricing from any of your favorite designers.
Comfortable shoes! If you plan on exploring the wilderness, invest in sturdy hiking boots. Wear them around while running errands for a few days before your trip to break them in and so you know these are definitely the right shoes for your feet. For a beach get away, new flip flops or sandals to match your outfits. If you want a little extra support in your flip flops, look for those with cork-bottoms or those made out of yoga mat foam. Aching feet should not be a concern on vacation.
Consider investing in a reusable water bottle. Not only is this useful for travel, it's also good for everyday. Traveling during the summer means you will likely be out in the sun and moving around. You don't want to accidentally dehydrate, especially not in a foreign country where you may not speak the language or have insurance. Popular travel destinations anticipate this lack of preparedness and will price gouge bottles of water. Having a lightweight water bottle on hand will save you money and keep you hydrated.
Unless you plan on visiting a country or state during their dark months, a chic, sturdy pair of sunglasses is an absolute must. Wanting to keep harsh glare out of your eyes is a given, especially while on vacation, where you might be exploring or sprawling out in the sun. Regardless of your vacation type, travel involves a lot of moving around. You are going to want a pair of sunglasses that will not snap at the slightest bit of pressure. Go to a store and feel the pairs you want before buying them.
A film camera! Recently rising in popularity again, film cameras are cheap and easy to pack in both your luggage and your regular bag. Having one on hand is a great way to capture memories with high quality. These cameras cast the photos in a cozy film, giving an almost vintage look. A physical copy of pictures you've taken is a great keepsake to reflect back on later.
Pack wisely to best enjoy your time away! You want to look back on your vacation fondly, so take what you need and capture those memories!