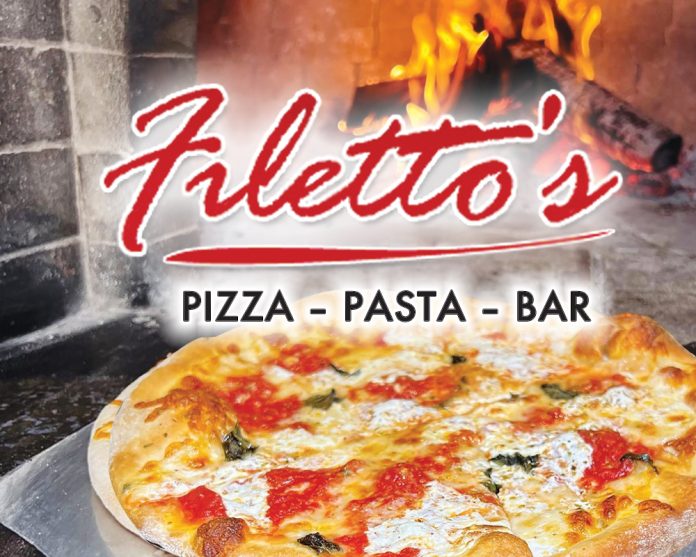 ---
---
There's pizza and then again, there is pizza that makes me wanna break dance! This unpretentious pizzeria restaurant in the heart of East Northport is knocking it out of the park with their deep dish (double baked) Sicilian and Neapolitan pies. The latter definitively is good, but the Sicilian is on a whole other level. The double baking of the pies is something I have never heard of before.
Filetto's Master Pie maker explains that they bake the dough twice. Once without any topping and then after all your sauces, cheeses and meats are added. The two step process gives the pie crust a chance to rise, giving it more height with an even crispier texture. It may sound like an effortless process, but as simple as it may be, nobody else I know is doing it. Available only at Filetto's, East Northport.
Upon entering Filetto's, you will be immediately pulled into their display of freshly made gourmet pies, like their thin crust focaccia pizza; first baked in garlic and oil, then topped with homemade fresh mozzarella, tomato, basil and roasted peppers, then finished with a pesto drizzle. (Oh, my goodness!) Though their gourmet pie selection is vast, what makes Filetto's unique to East Northport and surrounding area is the brick oven pizzas. For me, nothing beats the taste of wood burning fire on a pie that delivers a crispier and richer flavor.
For over 20 years, Filetto's of East Northport has been serving up a diverse menu of southern Italian fare that is reasonably priced and worth visiting. Especially during these times, it is nice to go out to dinner with the family without busting the budget. 
I have eaten at Filetto's several times and would like for you to consider trying some of these on your next trip out. For starters: stuffed baked clams (four oversized clams with freshly chopped clams, onions, peppers, topped with a light scampi sauce), just lightly breaded, you can taste the freshness come through. Also, on the menu: the artichoke francese, (baby artichoke hearts battered and sautéed in a white wine lemon sauce) were delicate and full of flavor.
For the mains, we chose the Shrimp Oreganata, but asked if they could lay the shrimp over a bed of spinach. (I love when a server says, "no problem".) The shrimp were plump and succulent. And, what I loved most…they pulled those annoying shrimp tails off– that was a first. My wife, being a vegetarian, went for the Eggplant Rollatini. When I think Rollatini, I imagine little rolled up logs of eggplant. Not Today! Filetto's delivers a bountiful portion of three oversized pieces of eggplant – stuffed in the creamiest, seasoned ricotta with melted mozzarella, then topped with a ladle of pomodoro sauce. Excellent choice!
The dessert selection at Filetto's is plentiful, but one that that caught my attention is their Peach Melba Pie. Rarely, have I seen this on restaurant menus, so I thought I'd give it a try. A delicate balance of peach pie, served up warm with a scoop of vanilla, whipped cream with a drizzle of chocolate syrup. Umm!! Filetto's Ristorante is a neighborhood haunt that is definitely worth exploring. Don't forget, the restaurant features live music on Friday and Saturday nights, making it the perfect spot  for a night out. And, if you spend $50.00 you will receive  a complimentary bottle of wine to pair with your delicious meal. Bravo to Filettos for offering a fantastic dining experience!
---
---