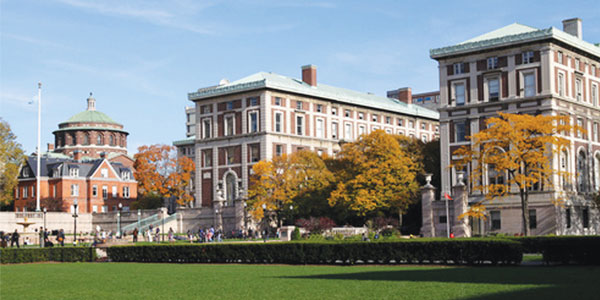 Rachael Severino is an incoming high school senior at Sachem North High School in Sachem School District. This aspiring writer has a knack for the written word. She has penned short stories, poetry and is developing an
impressive body of work.

Being a high school junior or senior often means it is the time to start contemplating where you'll spend your years following graduation.
University is a fantastic way to become an expert in your ideal career path, make connections, find friends and discover your own self.
Make a list or a spread sheet, depending on how organized you are, to keep track of what you want from a college. Your wants during this process are just as important as your needs.
However, deciding on a university can be an impossible task when you have yet to pick a major.
While nearly no school requires you to declare a major freshman year, it does make the college source a little easier. Consider the classes you have taken, the interests you have developed, the clubs you have been active in, and the sports you have partaken in. If you have an ideal career in mind, look into the major that would best prepare you for that job.
Ensure that you find a major you will enjoy. College has grueling moments, so make sure you love what you are doing to guarantee you will be able to power through.
When picking a major, consider what type of degree you want. Think about if you want an associates, which is two years, a bachelors, which is four, or a five-year-masters. Many schools offer this great thing called a five-year-masters program. Which means, you do not have to apply to grad school.
Location, location, location! After you have decided on a major, it is probably best to look into where you want to be. If being in a city is important to you, if there is a specific state you have visited and loved, if staying close to home matters, decide how close, and add it to the list! If you have absolutely no idea where you want to be location wise, think about the life you would like to live for the next few years. Research various places and consider what would best suit you.
After all the location hunting, decide whether or not you want to go to a public or private college. There is a lot to consider when deciding between the two, such as costs, diversity, student life on campus, and the quality of education.

Public universities almost always have lower tuition costs, making them more appealing to families. Tuition and additional costs at private colleges can come out to a more rough total number. However, public colleges' financial aid money is considerably more limited. Private colleges have more money to award students with, resulting in private universities often becoming the better bargain. However, if you come from a family with an income under $125,000, you will be eligible for a tuition free college experience at CUNY and SUNY schools. Look at your financial situation and consider costs after you receive your acceptance letters.
If diversity is an important factor, look at a private university. Major schools like Columbia University really care about creating a diverse and multifaceted environment. Diverse schools often tend to be more liberal, offering organizations full of people with similar backgrounds.
In terms of student life on campus, public campuses are often larger. More activity occurs during any given day than that on a private campus, which usually tends to be smaller. Public campuses focus greatly on the social aspects, emphasizing clubs and athletics. Private campuses, however, focus on small class sizes, an equal faculty-to-student ratio, and unique major programs.
Finally, the quality of education should be a major consideration. Because private universities tend to be smaller, there is, as previously mentioned, a more equal faculty-to-student ratio. This offers, or guarantees, the opportunity to form close bonds with professors. Colleges like Sarah Lawrence boasts about their small classes and the bonds formed between professors and students, mostly because it gives students the incredible ability to gain everything out of their college experience. Public campuses are too large for this to occur, classes are lecture halls rather than conferences, and professors are just professors.
Many believe that a lowered tuition does equate to a lesser education, and in some ways, they may be right. But there are a million other factors to consider.
After you have picked out a few colleges you like, sign up for their mailing lists. You will get important information about the school and upcoming events for considering students.
Once you have really fallen for two or three universities, schedule a campus visit. These visits help you get an honest vibe of the school. If you go during the school year, you will get to see the students in action. A good solid sense of the school you are considering is important.
If you have the time, sign yourself up for an informational session. These are, in my experience, the easiest and most helpful way to find out about how the specific school operates and how the application process works. If you have even more time, and the school allows it, schedule an interview. They are not crucial to any application process, but they are factored in when you apply and can be helpful.
Before applying, make sure that you are honest with yourself. Do not spend hundreds of dollars on applying to every ivy league when your GPA is not high enough or you have no extracurricula's. Do not look into universities that are too far out of reach.
Your happiness on that campus and in those classes matters more than anything. Find a campus that you will deeply love, declare a major that will fascinate you, all in a place that will make you happy. University is a massive stepping stone that will guide you into the future, so make sure it is a stepping stone you will actually like.